David Attenborough Chatted With The Royal Kids About Animals And It's Freaking Adorable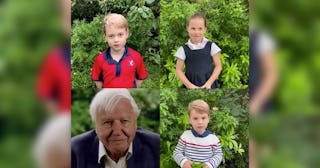 The Duke and Duchess of Cambridge/Twitter
Prince George, Princess Charlotte and Prince Louis got to ask him a question about animals and his responses were perfection
If you're like me, you've been dreaming of two minutes and 33 seconds of peace amid all the chaos and breaking news happening every hour. The Duke and Duchess of Cambridge instinctively knew this somehow and released the most heartwarming video of their three kids asking Sir David Attenborough questions about our planet.
File this exchange under the most wholesome and pure of its time: Prince George, Princess Charlotte, and Prince Louis chatting it up with the beloved historian and environmentalist like they've all known each other forever. Each took turns asking him questions about animals and Attenborough took so much time answering them and engaging in such a sweet way that you'll wish you, too, could send in a question for him to answer.
Prince George started off by asking, "What animal do you think will become extinct next?" to which Attenborough replied, "Well, let's hope there won't be any. Because there are lots of things we can do when animals are in danger of extinction. We can protect them." He then took time to explain the ways we can all get involved to ensure no more animals become extinct in our lifetimes.
Princess Charlotte was up next. The adorable five-year-old asked, "Hello, David Attenborough. I like spiders; do you like spiders, too?" in a wee voice that makes you want to faint from the sheer cuteness of it all. "I think they're wonderful things," Attenborough answered. "Why is it that people are so frightened of them?" asking Charlotte, "Have you ever watched one trying to build its web? That's extraordinary."
Prince Louis was up next and if your heart hasn't yet burst into one million pieces, this should do it. "What animal do you like?" Louis asked, but instead of "animal," it came out "amimal." Attenborough thoughtfully replied, "I think I like monkeys best. Because they're such fun. They can jump all over the place… And they're so funny. And I like them a lot."
The appearance was part of a larger project the Duke and Duchess have been working on to highlight the environment and what is going on in the natural world. Last weekend, the couple released pictures of the family in the garden at Kensington Palace meeting with Attenborough, who recently joined Instagram for the first time at the ripe, old age of 94. The move landed him the Guinness World Record for the fastest time to reach one million followers: a mere hour hours and 44 minutes.
Here's hoping the Royal kids get more time with Attenborough because — and I think I speak for many — we could all use much more content like this.