Gillian Anderson Is Absolutely Done With Bras & We're Here For It
by Erica Gerald Mason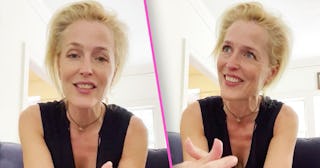 Gillian Anderson/Instagram
The Crown actor voiced her opinion about bras during an Instagram Live Q&A
There are some celebs that, while we love them, aren't exactly trying to be relatable (we're looking in your direction, Gwyneth Paltrow and Mariah Carey). Other stars… well… let's just say we have a feeling they wouldn't judge us for eating a handful of Most Stuf Oreos for breakfast. Gillian Anderson, actor, and overall badass, is one of those stars. According to Anderson, her boobies are happiest when they're free and honestly, it's so relatable. The Crown star took to Instagram Live on Tuesday to discuss future projects, and… well… a couple of things came up.
"I don't wear a bra anymore. I don't wear a bra. I can't wear a bra. I can't, no. I can't," The Crown star said during a question and answer period within the broadcast. "I'm sorry, but I don't care if I reach my belly button, my breasts reach my belly button. I'm not wearing a bra anymore. It's just too f—— uncomfortable."
If you've ever sighed when you take off your bra, you probably understand exactly what Anderson is saying.
When a viewer asked about her coronavirus lockdown wardrobe, Anderson spoke from her chest, telling the fan she would wear "comfortable" black track pants and a black hoodie "every day" if she could.
"[It's] probably the same as my go-to out-of-lockdown outfit," the actress added. "I'm so lazy."
When Anderson isn't ditching her bra, she's been busy throwing down dance moves. In January, Anderson appeared on The Late Show With Seth Meyers, where he surprised her with a cute vid of Anderson and her castmates from The Crown dancing to Lizzo's feel-good anthem Good As Hell.
"Olivia [Coleman, who portrays Queen Elizabeth to Anderson's Margaret Thatcher] apparently does a dance class in the area that she lives with a bunch of friends on a regular basis, and the last time she did the class, they had danced to that Lizzo song," Anderson told Meyers. "She asked if we would happen to be interested in maybe doing it, and she would video it."
In 2017, Anderson told The Guardian how meditation helped her come to terms with aging.
"I will not go there. I simply will not allow it any more. Because the things that we might be critical of ourselves about actually don't matter. The only thing that really matters in terms of our peace of mind is our peace of mind itself, and how we react to things. All I know is that when I meditate, one goes beyond the physical, and it is possible to tap into a sense of absolute contentment and joy in that place. So if that's where you're starting, then actually none of this," Anderson said as she pointed to her body, "means anything, really."
Anderson, who has been nominated for a Golden Globe for her portrayal of Thatcher, dove into the role with gusto.
"Thatcher was undoubtedly formidable but I am relishing exploring beneath the surface and, dare I say, falling in love with the icon who, whether loved or despised, defined an era," she said in a statement at the time.