300+ Popular Girl Dog Names That Will Keep Her Tail Wagging For Years To Come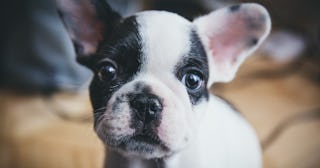 Pexels
It was love at first sight with your canine soulmate and now you've brought her home to stay. You've bought the toys, the tiny little bowls, and survived the first vet visit. There's just one thing left to do: find your new little puppy a girl dog name as sweet and beautiful as she is. But with so many names to choose from, it can be difficult to pick a name that best reflects her playful and loving spirit. After all, a dog is another member of the family — choosing a name for your four-legged child feels a lot like picking a name for your human child. And we all know how impossible baby naming can be!
RELATED: 50+ Funny And Sweet Dog Quotes And Jokes Worthy Of Man's Best Friend
The name you give your pup is important. Thankfully, there are many sweet pupperific names out there. But sometimes it can still be hard to pick and we get it. It's like coming up with a username after all the good ones are taken. So, if you're stumped, or looking for something unique, we've got you covered. We've gathered the strongest and cutest names we could find to help you decide. Pro tip: A great way to find the best name for your dog, is to spend time with them first. After learning their quirks and charms, you'll be able to give them a name that fits their personality traits the best.
Having trouble selecting the best name for your doggie? Don't fear. We selected the most popular and fun dog names that will keep her tail wagging for years to come. If you don't see anything here you love, check out our page on dog names that are unique or get inspiration in the unexpected with our page on fairy names.
Aaliyah
Aarsi
Aba
Abal
Abalina
Abbeline
Abbey
Abbo
Abby
Abela
Abelia
Abella
Abia
Abida
Abigail
Abila
Abina
Abira
Abiri
Abish
Abra
Abriana
Abrielle
Abril
Acadia
Ada
Adair
Adala
Adalee
Adalia
Adalie
Adalynn
Adama
Adamina
Adana
Adar
Adara
Adda
Addie
Addison
Addy
Ade
Adeera
Adela
Adelaide
Adele
Adelia
Adeline
Adelis
Adeliza
Adelma
Adelpha
Adelyn
Aden
Adena
Adi
Adia
Adie
Adila
Adima
Adina
Adine
Aditi
Adiva
Adley
Ado
Adola
Adona
Adonia
Adora
Adore
Adowa
Adra
Adrah
Adri
Adriana
Adrina
Adva
Adwin
Adzoa
Afri
Afton
Agaja
Agate
Agatha
Agele
Aggie
Agie
Agnes
Agnola
Agota
Agrata
Aida
Aiden
Aidy
Aija
Aiko
Aila
Ailee
Aileen
Ailis
Aimee
Aina
Ainsley
Airlea
Aisha
Aislin
Aja
Ajo
Aju
Aka
Akako
Akala
Akasha
Akayla
Aki
Akibe
Akiko
Akili
Akira
Akita
Amory
Armit
Akiva
Akiyo
Aknes
Aksi
Aku
Akua
Akuba
Akudo
Akuna
Akuwa
Ama
Amal
Amalda
Amalisa
Amanda
Amani
Amar
Amara
Amari
Amarit
Amarli
Amata
Amaya
Amba
Ambelin
Amber
Amberly
Ambra
Ambre
Ameera
Amelia
Amelie
Amelina
Ameline
Amena
Amerie
Ami
Amia
Amiah
Amica
Amie
Amina
Aminah
Amita
Amor
Amora
Amy
Amya
Allie
Amber
Angel
Annabelle
Annie
Arya
Aspen
Athena
Autumn
Ava
Baby
Bailey
Bea
Bean
Bebe
Bella
Belle
Betty
Biscuit
Bonnie
Boo
Brandi
Brandy
Brooklyn
Buffy
Buttercup
Callie
Charlie
Chloe
Cinnamon
Coco
Cookie
Cupcake
Dakota
Daisy
Dot
Ella
Eloise
Emma
Flora
Fawn
Georgia
Ginger
Ginny
Harper
Hermione
Holly
Halley
Honey
Irene
Iris
Izzy
Jade
Jasmine
Jo
Koda
Lady
Layla
Leia
Lila
Lily
Lucy
Lucky
Lulu
Maddie
Marley
Marshmallow
Martha
Mocha
Millie
Mimi
Mindy
Minnie
Misty
Nana
Naomi
Nova
Nutmeg
Opal
Oreo
Paisley
Panda
Peanut
Pearl
Penny
Perdita
Pepper
Phoebe
Pixie
Pumpkin
Queenie
Quinn
Riley
Roxy
Rose
Rosie
Ruby
Sadie
Sasha
Sassy
Sidney
Scout
Shadow
Stella
Suki
Sweetie
Tess
Trixie
Tulip
Ursula
Velvet
Vivan
Willow
Winnie
Yara
Yasmin
Yellow
Yeska
Yola
Yosemite
Yumi
Yuba
Yoko
Yeardley
Yvonne
Zach
Zack
Zander
Zane
Zara
Zeek
Zeke
Zelda
Zen
Zena
Zephyr
Zeppelin
Zero
Zeus
Zia
Ziggy
Zion
Zippy
Ziva
Zoie
Zola
Zooey
Zora
Zorro
Zoë
Zues
Zuko
Zulu
Zuma
Zuri
Zuzu
This article was originally published on