This Girl Dressed As An Exhausted Mom For Halloween And We Feel So Seen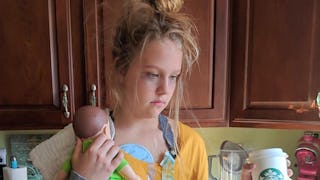 Hartsocks' Photography
Are we looking at a picture of a child dressed as an exhausted mom on the edge of losing it, or are we looking in a mirror?
Want to see something really scary? Here's a costume that may hit a little too close to home. Jillian Hartsock decided to dress up as an exhausted mom, and she pulled it off a little too accurately for our own comfort.
"Jillian's 'tired mom' costume is literally EVERYTHING," her mom shared on Facebook on Friday.
Since the share, the post has been liked over 28,000 times and shared over 47,000 times — along with over 6,000 comments, many from moms who were LOLing, even if they felt a little personally attacked.
Hartsock got the idea from her own mom, Lindsay Hartsock, who's a very tired mother, juggling lots of little ones, plus a business owner along with her husband Kyle.
"We have 9 kids and a busy photography business," Lindsay tells Scary Mommy. "Jillian sees me trying to manage our big, active family AND also our profession… plus, she helps a lot so she knows exactly what it's like to be a tired mommy (and sister!) and she thought it would be be a perfect costume for her."
"Growing up in a big family, she has seen the blood sweat and tears that go into raising kids! She did so great taking these photos! I told her to smile in one and she said 'I'm happy, but I'm a tired mom, so I have to keep this look so I don't break character!'"
Let's do a head-to-toe roll call of the elements that make this exhausted mom costume far too real:
A messy bun that we hope looks super on-trend and carefree, but actually looks frightening and squirrels might live there for all we know.
Deep, dark circles under our eyes. Or is that yesterday's smudged mascara that we forgot to remove from our faces? Who's really to say.
The 100-yard stare.
A venti coffee from Starbucks, also known as the last bit of sanity that allows us to conquer another day.
A grey, oversized sweater hanging limply off of our bodies — the perfect color to hide the appearance of, but not the smell of, spit-up.
A burp cloth, which we lie to ourselves by thinking it will protect our grey, oversized sweater.
A pacifier clip, which is clipped to us, not the baby. This is a metaphor for something about motherhood, but we're too tired to figure out what it is.
A diaper hanging off of the pacifier clip, because you can never physically carry around enough diapers — you probably should look into buying some sort of diaper mule.
A visible nursing pad, because we no longer understand the concepts of shame or embarrassment — there's simply no time.
A bag of baby wipes and wine — also known as the "one-two punch" of necessary items for caring for children.
Black leggings — we only wear jeans for "special occasions" now, and dresses for when we have tea with the Queen of England.
Uggs — as in, Ugg, we have to leave the house because we are out of milk and eggs and bread.
A toddler clinging to our leg. We barely even feel her there anymore. Walking with her attached to us is really our only form of exercise.
Lindsay tells us, "So many moms are saying that it makes them feel normal and not alone to see other moms look and feel the same way sometimes. the funniest comments are the ones from Moms saying that they don't even have to dress up for Halloween because they look like this everyday!"
Of course, this truly terrifying Halloween costume idea isn't an isolated event. Apparently when kids think about heart-stoppingly horrifying ghouls and ghosts, moms trying to make it through another day jump immediately to mind. We can't really say we blame them.
This article was originally published on