A Girl Was Expelled From School For Kneeing A Boy 'Protesting' Trans Bathroom Rights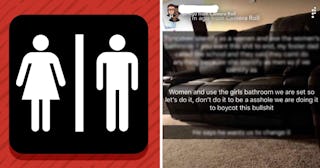 Image via Facebook
No one's convinced the right person got in trouble after a group of boys tried to enter a girls' bathroom to "protest" trans rights
A school district in North Pole, Alaska, is in turmoil after a high school girl was expelled indefinitely after she kicked a boy in the groin. The boy, along with six other teenaged males, were entering a women's bathroom in protest of a trans student who took a selfie in the men's room (where he was expressly allowed by the school to enter).
The incident sheds light on two different but important topics: a female student's right to respond with physical force when she feels in danger, and trans students' rights to use a bathroom that aligns with their identity (and where they feel safe and comfortable).
It all started at North Pole High School, when a trans student took a selfie of himself in the men's bathroom, after he expressly had permission to use the bathroom from the administration. A group of male students who were offended by the selfie decided to take their own selfie in the girls' room as a form of protest, without seeking permission from the school.
"Tomorrow identify as a women and use the women's bathroom if you want this shit to end," read a Snap Chat about the protest.
As she was exiting the girls' room, a female student (with no relation to the transgendered student) was startled and frightened, and responded by kneeing one of the students in the groin. The rest of the boys dispersed, and the injured boy was brought to the nurse.
The female student (who is a minor and therefore will not be identified) was "expelled indefinitely" from the school after a Title XI investigation for using force against another student before physical force was used upon her.
The boys were also disciplined, though their punishment was not released, and does not seem to be as severe.
The student is appealing the school's decision, and many in the community back her fight.
"These guys (and men some were 18) came into the female bathroom and scared me," she wrote on Facebook. "And in a reaction I kneed him. I didn't even know what I did till after. I was scared. There was no way for me to leave the bathroom or I would have."
One person to come to the girl's defense was Republican Alaskan state representative Tammie Wilson, who voiced her comments in a new conference.
"I don't care why the boys were in the bathroom," Wilson said. "I heard there was some kind of protest going on, but doesn't matter. I just wanted to make sure I had this opportunity to tell those young ladies at North Pole High School… if you ever feel threatened for your safety, whatever force you think you have to give, I will stand behind you. And so will our community."
She also said it was the wrong message to send to girls that they needed to decide "at a moment's notice how much force you should utilize if you're feeling threatened."
The school district seems to have a pretty good policy for trans students in place, even if they've seem to have acted way too harshly against a student who was just trying to go to the bathroom without being caught in the middle of a herd of teen boys invading a private space just to bully a trans student over social media.
Dr. Karen Gaborik, the superintendent of the Fairbanks North Star Borough School District, did have some good stuff to say about their policy about trans kids and bathroom usage – the school has had at least 16 trans kids in the school system in the past three years.
"When a student identifies as transgender in our district, the student (and often the family) work with school counselors and administration to determine how to best meet that student's educational needs," Gaborik said in a statement. "The conversation includes use of restrooms. Each situation is addressed individually."
Some kids decide to continue to use the bathroom that corresponds with their assigned gender, some use the bathroom of their gender identity, and some use gender-neutral, one-stall bathrooms.
Gaborik's final thought on the whole incident?
"The entire school community needs to work together to ensure that all students feel welcomed, safe and are able to learn and thrive," she said. "We recognize that parents, students and members of our community feel strongly about these issues, but advocating for the use of violence does not contribute to a safe learning environment."
It sounds logical, but when it comes down to it, expelling a student for using force when she felt unsafe, against a group of boys who were obviously acting out to make others feel unsafe, doesn't seem like the right action at all.