Glamping Options For People Who Hate Camping
by Christine Organ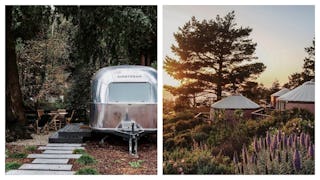 AutoCamp/Instagram (left) / Treebones Resort/Instagram (right)
I love nature as much as the next person. I like hiking and laying on the beach in the sun. I love mountains and sunsets, and the deep blue of the ocean is pretty darn close to a religious experience for me.
But.
Sometimes I think I love the idea of nature and the outdoors more than I actually love being in nature and the outdoors. Because as soon as I'm in the wilderness for any extended period of time, I become a complete whiner. It's either too hot or too cold, too windy or too sandy. I'm an indoor cat, at heart. One who likes the great outdoors — in small doses.
A morning hike? Sounds great! A day on the lake? Yes, please! An afternoon picnic? I hope there aren't ants, mosquitos, and flies, but sure.
But camping? Nope. Nuh-uh. No can do.
RELATED: The Best Family Tents For Camping, Including One That Fits 16 People
Or more accurately, no way in hell am I spending the night sleeping on the hard ground with only a flimsy piece of fabric separating me from the bugs and wild animals and I have to walk a quarter-mile to the closest bathroom (which is really just an outhouse) and cook my food over an open flame. NO FUCKING WAY.
But, like I said, I do like to spend time in nature… so what's an indoor girl like me to do? Well, enter the fabulous world of glamping.
That's right: glamping.
If you've heard of glamping before, you probably associate it with rich millennials spending a shit ton of money to stay in a "cabin" that's bigger than my house while they pretend to "rough it." And yes, it is that. But there are also a lot of affordable, no-frills options for those of us who aren't super high maintenance, but appreciate indoor plumbing and maybe even a WiFi signal.
There are so many fabulous glamping options out there – for every budget, and in any location – that I'm thinking I might look to www.glamping.com to plan our next family vacation. Here are just a few of the gems out there:
With everything from campsites to autonomous tents (which are really small cabins), Treebones Resort in Big Sur, California has something for every person and budget. They even have yurts – and honestly, just saying the word "yurt" is fun as hell (as long as the experience isn't like this guy's). There are amazing views off the California coastline, and Treebones is a complete eco-resort. They grow their own food, recycle just about everything, and use food scraps to feed their chickens.
AutoCamp in Santa Barbara, California
The AutoCamp in Santa Barbara is a retro chic campsite where you can rent Airstreams with modern amenities (like running water and electricity) while still getting the campsite vibe. Guests need to bring their own food (grills are provided), so the AutoCamp is perfect for those people who like the autonomy of camping but want the basic comforts of home.
C Lazy U Ranch – an all-inclusive dude ranch in Colorado – definitely puts the glam in glamping. With several different cabin options, it's great for a family reunion or week away with family friends. But be warned: this is a luxury dude ranch and the price reflects that. But if you're looking to splurge on a one-of-a-kind experience that almost feels like you've stepped back into the mid-1800s, this is it. It's like Westworld without the robots gone rogue. And with views like this…well, it might just be priceless.
Lost Lakes Resort & Campground in Oregon
The Lost Lakes Resort in Oregon combines the best of camping — boat launch, secluded "off the grid" vibe, hiking trails and a gorgeous lake surrounding by snow-capped mountains — without the actual hassles of camping. For the more adventurous guests, there are campsites available; but for the rest of us, there are yurts and fully-stocked cabins. There's even a general store on site in case your forget to pack any essentials (and let's be honest, we always forget to pack something we need).
What kid doesn't want to stay in a treehouse? Well, bring the whole family to the Treehouse in North Carolina. A 600 square foot treehouse deep in the forest above a mountain stream with waterfalls, you can't get any closer to nature than that. It's located 45 minutes northeast of Asheville, North Carolina with easy access to lots of hiking trails. And best of all a hot shower to greet you after all those hikes. Not surprisingly, the treehouse books fast so make your reservation early.
If you're going to immerse yourself in the outdoors, you might as well go big, and Yosemite National Park is about as good as it gets. The Yosemite Pines RV Resort has some of the most up-close-and-personal lodging options for those vising Yosemite, while still sheltering you from wild animals and providing indoor plumping. As an added bonus it has a petting farm and a swimming pool – not to mention some of the most breathtaking views around and LLAMAS! Oh and it's pretty darn affordable too.
Bar N Ranch at Yellowstone National Park
Bar N Ranch in Montana is just 6 miles from Yellowstone National Park. With cabins and guestroom lodging options, it's a little less like camping than some of the other options, but because of its location, it really does feel like you're off the grid.
Now if you'll excuse me, I have to start planning our next family glamping vacation.
This article was originally published on