If You Like To Go Bare Down There, You Need These Products In Your Life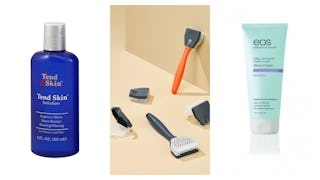 amazon.com / harrys.com / evolutionofsmooth.com
To bare, or not to bare… that is the question. When I say bare, I mean "down there." You know where I mean, and you know where I'm going. It's time to talk bikini hair removal.
There are many ways to take care of your vagina, including shaving (or another kind of bikini hair removal.) Taming your vajungle is a personal choice entirely, and if you choose not to do any sort of grooming down there, that's fine. But if you decide to groom yours like a vaginal topiary, or just take it all off, then you probably have a grooming regimen.
Everyone has products they love based on their skin and their hair type naturally, and every so often we may want to try something new just to change it up. Whether it's a new bikini razor or shaving cream or aftercare product, there are tons of options out there. These are just a few tried and true products that are good for deforestation, whether it's your first time or you're an old pro.
A precision trimmer is a great tool to have for going bare, especially if you're just performing maintenance. This bikini razor comes with two different attachments to make sure that you're getting the best and closest shave you can get. Plus it's small and easy to rinse clean.
This was recommended to me by my former aesthetician about 10 years ago. A solution for preventing ingrown hairs and bumps, this is great whether you shave or wax. It is a miracle elixir, seriously. Tend Skin works on preventing bumps and ingrowns, and it helps to clear up any existing bumps and ingrowns. But be warned, it smells… not so great. Just pinch your nose and know that your skin is loving you.
If you're looking for something a little milder than the "antiseptic" smell of Tend Skin, you'd probably like Coochy. It was recommended by a friend who says it "didn't burn so much," and also "does not have a bad odor." If you're looking for something light and moisturizing, then you might want to give it a try.
This is milder than your typical body scrub, which is perfect for pre- and post-bikini hair removal. You don't want to create any micro-abrasions on the skin, which is always a possibility when you're dealing with a harsher body scrub.That's what makes it great for pre-shave, and it's always good to do a little scrub before you shave to get off the dead skin, which makes it easier for the razor to catch the hairs and not get clogged.
I personally use this before every shave, and sometimes after too. It's very mild and doesn't contain any oils or lotions; so there is no residue left behind, which is helpful if you're going to apply any sort of after shave.
Do yourself a favor and get this shaving set. STAT. It may or may not have been sent be the bikini hair removal gods. Us, exaggerating? Never! Not only is it affordable, it's stylish AF. Harry's Truman razor, which comes in three colors, has a weighted core and a textured rubber grip. The five blade razor head pivots to get into the harder to reach places. And if you get the set (you can just order the razor by itself), you also get three replacement blades, a cover to protect the blades and either foaming shaving gel or shaving cream. My best friend, who swears by this, recommends the cream too.
If you're looking for a trusted 5-blade bikini razor that won't break the bank, this is the one. It gives you the comfort of the Venus razor we all know and love, but also has this really cool technology. The Flexiball allows you to maneuver your razor in a way you can't with a traditional razor. That is very helpful for getting into those hard to reach places, especially between your legs where it's hard to see. The other good thing about this razor? It works with any Venus blade (except for the Venus Simply 3).
Obviously, using regular shave cream is totally fine for taming your vajungle. But if you want to give your skin down there a little extra lovin', using a shave cream formulated for sensitive skin would be a good way to go. This shave cream has aloe and wild oats to soothe and lavender butter to calm. Plus, it has no added fragrance.
What a brilliant little invention for bikini hair removal this is! If you don't love shaving cream, but worry about using something like soap or hair conditioner (several people I know mentioned using conditioner) then this is probably the perfect thing for you! Not only is a shave cream, it also gently cleanses, so you can use it to shave, and then you don't have to wash again down there. It already takes forever to shave, so skipping a step would be pretty awesome right?
Going bare is always made easier with good products, and these are some of the best.
Editors may receive samples and/or a share from purchases made via links on this page. All opinions are our own.
This article was originally published on