Granny Panties Are Back, Because OF COURSE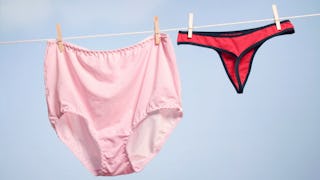 Sadeugra/Getty Images
We've all been there: we're wearing a sexy dress or don't want panty lines cutting our ass cheeks off in the wrong place while we're wearing our favorite jeans. So we slip on the thong or G-string and think, Okay, this isn't so bad.
I mean, pretty underwear looks so fab folded in color coordinated piles with matching bras, and sometimes we can't resist. Before we know it, we have every color of the rainbow lining our underwear drawer and think our undie makeover is going to help us live our best life.
Then we check out our butt in the mirror and admire how nothing is between our bum and clothing fabric and we are feeling pretty good — free and fabulous, even.
These feel great! They're so comfortable, and I feel sexy. Damn, why did it take me so long to get rid of my granny briefs and get something more fun?
As the lies we tell ourselves swirl around in our head, after a few steps, things start to creep up into our nethers and somehow the damn crotch of our underwear saws its way deeper and deeper into our lady lips and we feel like if we don't get the sandpaper out of our coin purse we are going to start busting shit up, which could be dangerous for everyone.
I'm pretty sure thongs are one of the leading causes of irritation and snippyness, so, reverting back to the comfy briefs feels like the right thing to do, and oh my god it feels so good to not have company in my vagina right now.
I know you feel me, and guess what? We have good news. Apparently, super sexy, barely there undies have had their time in the spotlight. Sure, they can be fun for certain occasions like, if you are going to be removing them a few seconds after you slip them on, but full-bottom undies are where it's at. I mean, we all know full-ass coverage is more comfortable than picking wedgies (or strings out of our vag).
According to Glamour, "Market research firm NPD reports that sales of thongs have decreased 7 percent over the last year, while briefs and boy shorts sales have grown by 17 percent." Can I get a halle-fucking-lujah up in here?
Free your butt crack and stop the chafing once and for all because those briefs and boy shorts are back, and they're sexy as hell.
How can you not want to slip on some jeans and enjoy the feel of cotton not creeping up your arse or cutting into your hips?
We love these. Not only are they comfortable under jeans, they can double as cute pajamas and they stay in place — no plucking necessary.
Mom jeans are coming back into fashion so we no longer need to wear super tiny, low cut undies to hide under our low-waisted jeans. I mean, you can go low if you want, but I'm willing to bet you'd rather go high in the undie department.
You can't deny how sexy this pair is, and there's no need to sacrifice comfort if you are wanting to spice things up on date night. Also, I feel like tiny packaged snacks would tuck nicely on those hip cut outs.
And you can't go wrong with a full-bottom brief like this high-cut pair which reminds me of things people wore in the '90s before things got so skimpy and we started paying more for less material. I can almost guarantee the removal of these will be cleaner than that butt floss you have to pry out of your crevices at the end of the day from motoring around in a damn thong.
We aren't saying you're never going to want to wear a barely-there pair of panties again — of course, my thongs like to make an appearance every now and again — but it's refreshing as well, a pair of cotton briefs, to know there are even more options out there and styles of underwear to accommodate all body types, preferences, and moods.
Really, we do what we want though.
And I don't know about you, but I think pairing a pair of boy shorts under a little black dress sounds enticing. Also, I'll probably walk better without all that damn fabric getting lost in my cave of wonders.
Of course, we don't need certain underwear to be on trend to purchase and wear them, but it is pretty damn validating to discover people have had enough of the frillies creeping up their fanny and are choosing "granny panties" (otherwise known as passion killers) over something that's so small it can be folded up and fit into a bottle cap.
Because seriously, being able to taste your underwear in the back of your throat by the time you walk downstairs in the morning is the biggest passion killer of all.
We may earn fees from purchases made via links on this page and affiliated sites. All opinions are our own.
This article was originally published on