My Son Was Murdered At Sandy Hook––Please Help Me Prevent This From Happening Again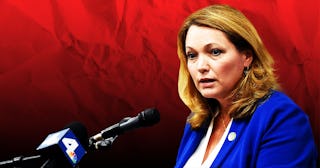 Scary Mommy and Juan Ocampo/NHLI/Getty
Trigger warning: child loss, suicide
This past Mother's Day, I sat down to read the cards my children had made for me over the years. For many, it is a time of joy that fills a mother's heart. But when your child is dead, it is just another painful reminder of what life used to be — and should be — but can never be again.
I still have two handmade Mother's Day cards from May 2012 in my home office. One from my eldest, Jake, who was seven at the time, and one from my youngest, Dylan, who was six years old. Dylan's card, with his handprint as a flower, and writing that he loves me because "she senz me to schol" was given to me just seven months before he was killed in his first-grade classroom at Sandy Hook Elementary School.
Since then I've devoted my life to protecting children from gun violence, and ensuring fewer parents experience the pain I endure every day. But as parents and caring adults, we need to be more vigilant than ever. More youth are struggling with mental health issues as a result of the pandemic, including increased depression and anxiety.
We may think kids are resilient, but the truth is — kids are not alright. As we look for ways to celebrate Mental Health Awareness Month, let's not forget about some of the most vulnerable and overlooked people in society: our children.
Recent studies show more than 70% of teenagers are struggling with mental health concerns, while one in four has considered suicide. Suicide is the second-leading cause of death among teenagers — and it's preventable.
During the past year, the National Crisis Center of our Say Something Anonymous Reporting System has seen a significant increase in the number of reports from students around suicide ideation, self-harm, abuse, and bullying. More than 20 percent of the reports received by the Center are now considered life-threatening situations.
Giving students time to talk about their feelings and begin developing new social bonds will be crucial to their well-being as they return to the classroom. Students, educators, and parents also need to learn the warning signs of someone in danger of harming themselves or others, and when to reach out for help.
In honor of mothers everywhere, I'm asking everyone — parents, educators, and caring adults — to take action to help our children and preserve their future. We need to start putting the supports in place now for the coming school year.
While my organization, Sandy Hook Promise, continues to make huge strides in saving the lives of children in schools nationwide, there is still a long way to go. Evidence-based suicide and violence prevention training in our schools can help our students deal with the impacts of the pandemic and ongoing mental health issues.
The Suicide Training and Awareness Nationally Delivered for Universal Prevention (STANDUP) Act, re-introduced in the U.S. Senate last week will make this kind of life-saving training available to all middle and high schools nationwide. Many of these programs are available to school districts at no cost.
Though the partisan divide in Washington still exists, the STANDUP ACT passed unanimously in the House of Representatives and was introduced in the U.S. Senate with bipartisan support.
This is an action we can move forward on today and get help to those who need it the most: our kids.
After my beautiful butterfly Dylan was murdered, I was in shock. As a mother, I couldn't imagine never seeing Dylan again or missing his infectious laughter. Even when I saw Dylan's body in his tiny casket, I couldn't believe it. It took months before I stopped calling him to dinner each night or looking in my rearview mirror to make sure his seatbelt was on.
We need to take action now before more mothers have to experience this pain.
Don't let politics prevent our children from getting the lifesaving support they need. We need to put partisan politics aside and work together — Republicans, Democrats, and Independents — to ensure the safety of our children.
The warning signs for the next school year are clear – the kids need our help. When our children return to their classrooms, they need more mental health support in place. Time is ticking, and only actions taken today can protect our kids' future.
Please, reach out to your U.S. Senators and encourage them to support the STANDUP legislation to reduce youth suicide. Work with your schools to ensure more mental health supports are in place before kids return next year.
Take action today, so fewer mothers have to grieve over cards given by children ripped away by violence or suicide.
This article was originally published on