If You Think Climate Change Isn't Real, Then Explain A Mexican City Buried In Ice In July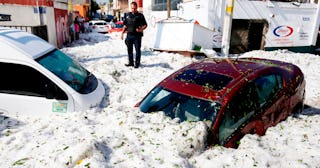 ULISES RUIZ/Getty
Guadalajara was buried in three feet of hail in an unprecedented weather event that could be linked to climate change
Despite highs in the 90s throughout June, the city of Guadalajara, Mexico was slammed with a freak hail storm on Sunday night that left much of the city under an unprecedented blanket of ice and snow. Houses and cars were damaged throughout the city of 1.5 million people, which is the capital of the Mexican state of Jalisco.
"Hail more than a meter high, and then we wonder if climate change exists," Jalisco Governor Enrique Alfaro Ramírez wrote on Twitter along with shocking pictures of the storm.
The hail, which was very small so that it looks like piles of snow, buried everything in its path, and damaged a number of vehicles and buildings, mostly in the Rancho Blanco neighborhood of the city. Reports vary, but say that between 30 and 50 vehicles were damaged, while between 60 and 200 buildings were harmed.
Luckily, though, no injuries have been reported, though the state Civil Protection office said that two people showed "early signs of hypothermia." Officials said that the small size of the hail saved the city from extensive damage, though the volume of the hail has many residents stranded.
Drifts of hail were more than five feet deep in some places, according to AFP.
Mexican officials, including the Mexican Army, have been at work to dig out the city using heavy machinery, but the ice is expected to melt quickly due to the return of normal summer temperatures. It's not know if flooding will be a secondary issue to the storm.
Hail is formed when summer storms with powerful updrafts drag rain upward into the atmosphere where it is below freezing, turning them into ice pellets. While summer hail is common in the Americas, this volume of hail hasn't been seen often.
While a hail storm like this hasn't been seen before to our knowledge, the world has seen some other freak hail incidents in the past. In 1360, an enormous hail storm killed hundreds of invading English Troops outside of Paris, France. In 1986, a hail storm in Bangladesh killed 92 people — with some hail stones weighing two pounds each.
Could this hail storm be a sign of global warming, and could global warming lead to more severe and dangerous hail storms? An article in New Scientist says yes.
Researchers have studied the size, not the volume, of hail, and concluded that as the world warms, the size of hail stones may very well increase. And, talking with more climate researchers, it makes sense that the volume of the hail could increase as well, because warmer weather means heavier rains during storms.
"In a warmer future, increased amounts of moisture in the air can lead to heavier precipitation during an individual storm," climate researcher Amulya Chevuturi at the University of Reading told the science publication.
However, we can't prove that the recent hail storm was a direct consequence of global warming, and without more information, we also can't be sure exactly what caused it. But it could be yet another warning sign that we need to put more effort and thought into fighting the worldwide phenomenon that could endanger our very existence.
This article was originally published on