Gwendoline Christie Submitted HERSELF For An Emmy Nomination After HBO Didn't
by Cassandra Stone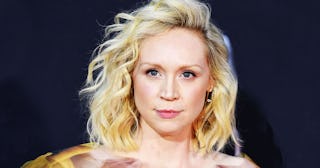 ANGELA WEISS/AFP/Getty
Ser Brienne of Tarth will reign as the knight of our hearts FOREVER
If you're unfamiliar with Game of Thrones' Ser Brienne of Tarth, you have no idea how much you're missing. If you're a fan of the show, however, you're very likely an enormous fan of hers and the actress who portrays her, Gwendoline Christie. She consistently gives us reasons to love and admire her, the most recent one being that she submitted herself for Emmy consideration this year.
That's right, she realized her worth and spoke it into existence via Emmy nominations. HBO did not submit her name — could you even imagine leaving Christie out of the running? Especially this year. Come on.
The best part? SHE GOT THAT NOMINATION, BABY. She's officially up for a Best Supporting Actress in a Drama Series award. Alfie Allen, who portrayed Theon Greyjoy on the show, also submitted his own name for consideration and landed a nomination as well. So did Carice Van Houten, aka Melisandre.
It's unclear exactly why HBO snubbed two of the best actors on the show, especially after their performances were some of the best of an otherwise dismal and controversial final season. Perhaps each network can only submit so many actors' names?
Even still, much as I love and adore Kit Harington, this season was, uh, not his best work. And it's not his fault, really, as his character wasn't given much to do other than squint and repeat "she's my queen" until he practically passed out from the duress of not really battling during battles. HBO submitted his name and thus secured a nomination for ol' Jon Snow.
Which is fine! But Brienne of Tarth was knighted this season, y'all. And she got to get busy with Jaime, finally. Even if he made an unforgivable mess of things afterward.
Fans of Christie's were tickled over her nomination, but mostly the fact that she submitted her own name like a true hero.
Though it seems like no one was more delighted about her nomination than Christie herself. After receiving the news, she told Variety: "I honestly couldn't feel more overwhelmed, privileged and heartened that people want to see more unconventional female storylines."
Damn right we do.
"Oh my good lord, I never ever thought this would happen," she continued. "I really didn't. I went through every single emotion. I couldn't be more delighted, this is the best day ever. It's amazing so many of us have been nominated. I'm delighted for everybody."
Thanks be to the gods, old and new, that she submitted herself and snagged the nomination — she deserves it.
In addition to Christie, Allen, Van Houten, and Harington, other Game of Thrones stars to receive nominations this year are: Emilia Clarke, Lena Headey, Sophie Turner, Maisie Williams, Peter Dinklage, and Nikolaj Coster-Waldau.
This article was originally published on