Gwyneth Thanks Herself For The Popularity Of Yoga
by Julie Scagell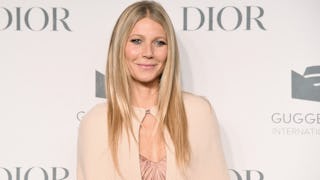 Image via Getty Images/Nicholas Hunt
The actress and lifestyle guru landed in it, again
In a move that will shock no one, Gwyneth Paltrow said something this week that offended people. This time, Paltrow decided the world should know that yoga exists in its popular form today because of her and her alone.
Paltrow was interviewed in the new issue of Wall Street Journal Magazine and between talking about her ridiculously obnoxious lifestyle site, Goop, and how she's grown into a brand and influencer, she tackled the subject of yoga. "I remember when I started doing yoga and people were like, 'What is yoga? She's a witch. She's a freak,'" she said. OK, fine, that makes sense. Just leave it there. Leave it there.
Narrator: "But she did not leave it there."
"Forgive me if this comes out wrong," Paltrow continued, "but I went to do a yoga class in L.A. recently and the 22-year-old girl behind the counter was like, 'Have you ever done yoga before?' And literally I turned to my friend, and I was like, 'You have this job because I've done yoga before.'"
Sigh.
For someone who should be extremely grounded from all the yoga she participates in, her comments suggest otherwise. Once the piece went public, people had a lot of feelings about her claims to be the reason for yoga's popularity. And they didn't hold back:
https://twitter.com/jetpack/status/1070450357803892736
To be fair, Paltrow's move towards a healthier lifestyle began after her father's throat cancer diagnosis and surgery in 1998, which is a noble thing. But claiming, even off-handedly, that she's somehow the reason for its popularity is laughable. Yoga was introduced in the U.S. in the 1800's. By the 1960s, "there were books about yoga that sold millions of volumes, dozens of yoga studios, and even a TV show featuring yoga workouts," Fortune reports.
She may be the reason we have a $65 egg you shove up your vag and a $240 toothpaste squeezer, but she is not the reason yoga is popular in America.
However you feel about Goop, if she wants something to brag about, do that instead. (Fine, she also does this on the regular). Creating a company from the ground up that sits at $45-60 million in revenue is impressive enough on its own without claiming to have started an ancient tradition. That's enough, girl. You win.
"I'm here one f—ing time. I want an incredible life," she ended the piece. "I used to be in my trailer, smoking a cigarette and waiting for Ethan Hawke to open the door. Now look at me."
Oh Gwyneth. Never change.