Male Gynecologist Dyes Patient's Vagina Purple During Exam 'As A Joke'
by Cassandra Stone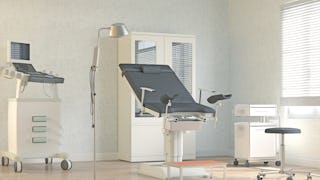 Image via Getty/onurdongel
A male gynecologist was charged with misdemeanor harassment after dyeing a patient's vagina purple
A male gynecologist who dyed a patient's vagina purple without her knowledge or consent during a routine exam won't lose his license. The dyeing was done as a "joke," he claims.
Oh, okay then. Perfectly normal stuff.
Barry King, the gynecologist in question, was charged with a misdemeanor count of harassment after the incident. But as long as he goes two years without committing any further harassment, he can have his conviction dropped and still continue to practice medicine.
The misdemeanor occurred in 2017, when King was approached by a woman who worked for him. She was concerned about a vaginal lesion — she is a breast cancer survivor who had a double mastectomy, and the lesions concerned her. She worried her cancer was returning and asked King if he would perform an exam as her previous doctor had recently retired.
According to the Grand Junction Daily Sentinel, King was acting oddly at the end of the exam and told the victim to ask her husband to look at her vagina when she got home. She claims that later that day, she noticed purple dye on her toilet paper after using the bathroom — which would certainly be enough to alarm any woman who was already concerned about her health. The woman says she recognized the dye as "gentian violet," a dye that used to treat medical issues like yeast infections and thrush. She was confused as to why the dye was used on her.
She says the next day at work, King was acting "really giddy." When she broached the subject of her exam with him, he said "it was a joke" and that it was meant for her husband — whom the woman says King did not know well at all.
And the problematic actions and behavior continued — King had apparently told other co-workers in the office about his "joke," which the victim feels is a violation of her privacy rights. She believes the intention of King's prank was for her to have sex with her husband while she still had purple dye in her genital area.
"I was sexually objectified as a prank on my husband in hopes that his penis would be stained purple," she told the judge at King's hearing. "That's disgusting." She eventually reported the incident after confiding in a friend.
The police initially investigated the incident as sexual assault, but King ended up being charged with harassment because authorities couldn't prove his intent was sexual in nature. Which is beyond messed up, because if a gynecologist is doing literally anything else to a woman's genital area during an exam that isn't related to the exam — it shouldn't be difficult to prove sexual abuse.
The real kicker here is that King is allowed to keep his medical license as long as he complies with the Colorado Medical Board's requirement of taking a class on professional boundaries and ethics. To which the only realistic response is: Are you f*cking kidding me? Who the hell would want to make an appointment with this creep now?
The victim says the entire ordeal has been "really horrific and humiliating." She told the judge she faced social and professional repercussions as a result of King's abuse, and likened the disgraced doctor to a "frat boy playing a prank and hazing me."
This article was originally published on