Where Are All The F*cking Hair Ties?! I Think I Can Help!
by Samantha Angoletta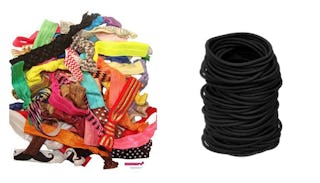 Amazon
I have long, thick hair. My daughter has long, wavy hair. We both like to wear our hair up, and even though I buy a pack a week, we are always searching the house for a damn hair tie. They are like gold. "Can I use your hair tie?" Hell no. Find your own, kid.
I have finally, after years of this battle, found a solution. I order them by the hundreds, literally. The best part? It's cheap AF.
My daughter loves the bracelet style, like the ones below. You can snag them in mixed prints/solids which is her favorite, or you can go for the neutral tones or plain black.
Mixed prints:
I'm not as adventurous. I prefer the basic black style, with no metal clasp. You can also buy these by the hundred, for less than 10 bucks.
And, if you also lose bobby pins in your couch cushions, car, bottom of your purse, and god only knows where else, then you need these too (available in brown or black).
I will never go back to buying them by the dozen. I feel far too liberated. You get a hair tie, you get a hair tie, everyyybodyyyy gets a hair tie.
Editors may receive samples and/or a share from purchases made via links on this page.
This article was originally published on