Live Your Best Life With This Hairy Chest Swimsuit
by Maria Guido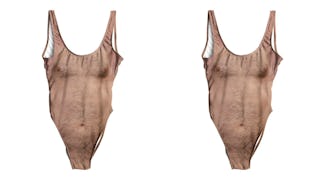 Image via Beloved Shirts
If dads get to relish their #dadbods, we get to wear this hairy swimsuit
There's a swimsuit going viral, right in time for summer. It's a one piece, it's user-friendly, and it will give moms the #dadbod they've always wanted.
Related: These 9 Bestselling Swimsuits Have A Cult Following On Amazon — And They're All Under $30
Behold the sexy chest hair swimsuit, from Beloved Shirts:
Think about it ladies: we have to obsess about our beach bodies for months on end, try on all manner of unfortunately designed swimsuits, and spend way too much time on hair removal. So much pressure! Dads? They just roll on the beach in some board shorts and call it a day. Oh, and their flabby post-kid bodies are celebrated as sexy. Damn, those flabby bodies are sexy. But why can't ours be sexy, too? It's so unfair. Which is why throwing caution to the wind and buying this $45 one-piece is really a statement.
It says, "I did not spend an hour on hair removal before I came to this beach. Also, I don't give a shit what you think about my beach body."
Related: The Coolest Rash Guards For Parents Who Don't Want To Bare It All (Or Get Sunburn)
It even comes in three different skin tones:
And if you want to be able to enjoy this new, hairy freedom in a place other than at the beach or pool, you can treat yourself to this sexy chest track suit:
Come on. You know you want this. Imagine showing up to the PTA meeting like, Hey ladies! Or, you could just embarrass your kids more than you already do.
Related: The 9 Best Maternity Swimsuits To Flaunt Your Baby Bump
https://www.instagram.com/p/BVDORngFaf7/?taken-by=belovedshirts
This summer, live your best life. Seize the day, and this amazing swim suit.
This article was originally published on