Why Half-Ass Dinner Parties Are The Best Thing Ever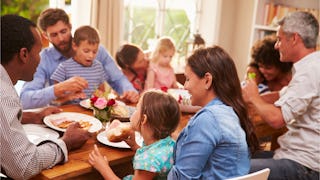 Shutterstock
There was a time — way back in the day — when I loved to entertain. I loved to host huge dinner parties and cook multi-course dinners. I would carefully plan menus and scour cookbooks and magazines for new recipes to try. I liked to cook and loved to spend time with friends.
Now…well, I still love to spend time with friends, but the cooking part? Not so much.
I can barely manage to get to the grocery store once a week, let alone cook a meal for my family. These days, if my husband doesn't cook, dinner is leftovers, cereal, or takeout. It isn't that I can't cook or don't want to have people over; it's just that the idea of "entertaining" is all so overwhelming.
Enter: the half-ass dinner party.
The half-ass dinner party is a chance for friends to get together without the hassle of cooking a five-course meal or cleaning the house before people arrive. It gives Pinterest the middle finger (unless, of course, Pinterest is your thing, then by all means, go for it). Basically, the half-ass dinner party is about friendship and togetherness, not entertaining or impressing people.
Half-ass dinner parties might mean takeout with another family, or maybe a neighborhood potluck. It can be an ice cream social on a Friday afternoon, or a Sunday movie night in the backyard when all the neighbor kids hop the fence to watch Despicable Me while the adults complain about the jobs they have to go to the next morning. The half-ass dinner party might be brunch or a cookie exchange, a small group, or the entire neighborhood. However it looks and whenever it happens, the half-ass dinner party is about one thing: minimal effort with maximum enjoyment.
Every May, my husband and I invite hundreds (literally hundreds) of people over for a Memorial Day party. Our town's parade comes right past our house so people come for donuts in the morning and stay for burgers in the afternoon. It is a daylong affair during which my husband, Matt, is basically standing by the grill (one of his favorite places in the world) all day long. Matt grills, and we have lots of beverages. Most others bring a side dish or dessert, and there's always more than enough to eat and drink. I don't clean before people arrive, nor do I spend a lot of time shopping for fancy decorations. It's about as basic as you can get and, still, people seem to have a good time. (Bloody Marys at 10 in the morning will do that, I suppose.)
Each year, I get a little tense beforehand wondering about what people will think about our paint-chipped walls, our dog-chewed couch, and lack of Pottery Barn décor. And then I remember that I don't give a shit about this stuff, so why should anyone else? What I do care about is hospitality, making people feel comfortable and welcome. I care about inclusivity, and my husband and I live by "the more, the merrier" philosophy so no one feels left out.
At its core, this is what the half-ass dinner party is about — hospitality rather than entertaining. It's about being with friends and family and neighbors, making memories, and enjoying ourselves. It's about giving ourselves the space to let it all hang out, so to speak, without the pressure to impress or appease.
Some of the most memorable evenings I've had were the ones where the food and décor were an afterthought and the people were the most important. Late nights playing Cards Against Humanity and laughing until tears streaked down our face. Friday night pizza nights with my in-laws and their kids, with cousins running amok and adults chatting about who-knows-what. Saturday night potlucks when everyone brings leftovers from their fridge or frozen apps from Costco.
The hassle of coordinating evenings out at fancy restaurants are a drain on our mental energy and pocketbooks. We're all busy enough as it is; why add more to-dos to the list when all we really want is to hang out with each other?
So out with the "entertaining" and "fancy restaurants," and in with the half-ass dinner parties and haphazard potlucks. Friendship — real friendship anyway — isn't about entertaining and impressing each other; it's about being together. It's about welcoming people into our homes and our lives, even if that means our home looks like a tornado went through it and our life feels the same. It's about nourishing our souls with friendship, family, and togetherness regardless of whether we're nourishing our bodies at a Michelin star restaurant or with casseroles and store-bought cookies. It's about being with our favorite people, filling our hearts with love and laughter, even if we're filling our belly with greasy takeout from the pizza joint down the street.
After all, even crappy food tastes delicious when it's shared with people we love.
This article was originally published on