Hallmark Just Released Their Lineup Of 23 New Christmas Movies
by Cassandra Stone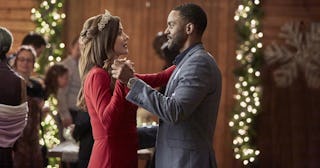 Hallmark
Brand new Hallmark Christmas movies = the gift we all need in 2020
Though the pandemic ground most creative production to an abrupt halt this year when it comes to television and movies, Hallmark was somehow able to still work its holiday magic by giving us 23 brand-new, original movies for their much-anticipated Christmas season. That's almost two dozen brand-new movies — and honestly, could there be a better year for such a gift? We all need a little escapism right about now. Bring on the sugar cookie contests and the red and green overload, because the world is starved for sweetness like never before.
RELATED: Christmas Quotes That Will Bring The Holly And The Jolly
For everyone who starts playing Christmas carols obscenely early without shame, you're in luck. The Hallmark holiday season begins before Halloween — you don't need to feel one ounce of trepidation over decking the halls early. WE NEED JOY, DAMN IT. And Hallmark is bringing it in heaps, starting October 24. Get ready to "Countdown to Christmas."
And in case you simply cannot wait without knowing more about the amazing movies coming our way (it's okay to be this excited, a total of, like, three movies have come out in 2020 total), here's a quick preview of what's to come.
There is barely a chill in the air and in many parts of the country it still feels like summer, but this makes us all want to grab the nearest giant afghan and a cup of hot chocolate, doesn't it? None of us have anywhere to go, but damned if these movies don't make me want to get out my big barrel curling iron and fish out a cute cardigan from the very back of my closet and pretend I inherited my grandma's Christmas tree farm.
If you're looking for something a little… stronger than hot chocolate this year (and good Lord, aren't we all), Hallmark has once again proven they know their target audience. How? THEY HAVE WINE.
The wines come in "Jingle," a rich, full-bodied premium Cabernet Sauvignon that "glistens a warm ruby color with aromas of dark chocolate, cherry, and a hint of holiday spice," according to the website. Then there's "Joy," a crisp and refreshing Sauvignon Blanc that "has notes of tropical fruits, white peach, and ripe pineapple."
https://www.instagram.com/p/CChPxUNjOxF/?utm_source=ig_embed
"We are so excited to announce the launch of our first-ever Hallmark Channel wines!" the company announced on Instagram. "Introducing a Christmas Cabernet and a festive and refreshing Sauvignon Blanc, both the perfect holiday gift."
Brand-new movies and wine to help distract our brains for two hours per movie as we dive head-first into an enemies-to-lovers tale between a small-town farmer and a big-city career woman who wears four-inch heels in snow? WE. ARE. READY.
This article was originally published on