11 Halloween Costumes That Will Break The Internet
by Sara Farrell Baker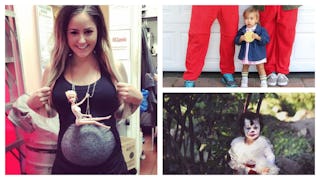 Instagram
How do you do, fellow humans? If you're like me, you were probably minding your own business this morning, running perpetually 12 minutes late for everything, when you felt your eyes bug out of your head as you realized Halloween is next week.
RELATED: 16 Adorable Baby Halloween Costumes You Can Buy Online
You heard me. Next. Week.
Completely unprepared? You're in good company! I've been scouring the internet for the best ideas to win you all the costume contests your heart desires, and I'm here to share them with you. Because friendship.
https://www.instagram.com/p/Baki_gxl5fg/?taken-by=ashleygavriloski
This costume provides maximum cuteness return on minimal effort. Pull out that fluffy snowsuit you registered for but never use because it's bulky and impractical, utilize some basic cutting and gluing skills with construction paper, and — voila! — you got yourself a bad investment from 1998.
Stranger "Things"
Pop culture? Check! Whole family? Check! Cute baby? Check! Puns? Check! Plus, it's easy to assemble and practically comes with its own high-fives.
Darla From Finding Nemo
https://www.instagram.com/p/BaiQMx0AQuk/?taken-by=paytsmith
"Fishy?! Why are you sleeping?!" This metal-mouth terror was more dangerous than any shark in this movie. Can I make one tiny request though? Please don't use an actual fish, you monster.
Nerd
https://www.instagram.com/p/BaLLCk4n_-W/?taken-by=karteraddison
Dweeb garb works for kids and adults alike. Cute for babies and funny for grown-ups. You probably got most of the necessary materials lying around at home anyway, ya bunch of dorks.
Dominos
Coordinate this costume with a bunch of the PTA moms and then walk down the halls singing Lean On Me before you topple each other over outside your daughter's geometry class. A Halloween costume that doesn't embarrass your child in some way is an opportunity wasted.
Miley Cyrus Wrecking Bump
Screw those uninspired painted-on pumpkins. Pregnant? Here's your costume.
Baby Pennywise
https://www.instagram.com/p/BaF6qb4F7-J/?taken-by=nessah07
Sure, cute costumes on babies are fine. They're fine. But if given the opportunity to scare the shit out of your neighbors — well, pass the red balloon.
Unibrow
One longitudinal eyebrow may not be on fleek, but this costume sure as hell is. And that Tweezerman clutch? Genius.
Taco Belle
https://www.instagram.com/p/Bah2osygiHz/?taken-by=_andrea_g_g
"There goes that lady with her crunch wrap supreme like always. The same old large size Mountain Dew." Punny costumes are the best costumes, and this is like a top 5 pun.
Your Starbucks Order
https://www.instagram.com/p/BY12jf3lZv7/?hl=en&taken-by=sewkcshell
What's almost as good as a hot PSL? Winning a gift card for a whole bunch of them at your office costume contest because you went as one. Bonus points if you misspell your own name on the cup.
Trolls
https://www.instagram.com/p/9Z6xK8DAXD/?taken-by=joygirlhailey
Feel like testing your marriage? Hand your husband a pair of flesh-colored leggings and tell him to meet you out back so you can bedazzle his belly.
So while you're cursing the existence of holidays and burning your fingerprints off with a glue gun at some horrible hour on Sunday night, remember that I will be doing the same thing. Looking up at the same moon, stress-eating all the candy I bought for trick-or-treaters, just like you. At least now you have some ideas that can bring home the gold at your bunco party.
This article was originally published on