Heated Slippers And Gloves Will Rescue You From Freezing Floors And Frigid Offices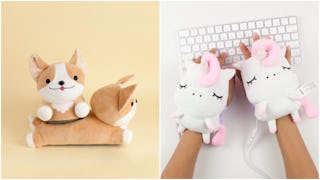 Image via Smoko
Prepare yourself for the cutest hand and foot warmers you'll ever see
There's officially a chill in the air, which means bundling up in all your thickest clothes and wrapping yourself in all the comfy blankets. Want to take that coziness to a whole other level? These heated plush warmers from Smoko will keep your hands and feet so toasty during the cold months.
Warning: they're extremely, extremely cute and some of them involve unicorns.
Fend off the cold with these adorable unicorns. The heat settings are adjustable, they're wireless, and the wrist straps are customizable. Also, they're so ridiculously cute that your heart just might explode a little.
I mean, if you're going to buy unicorn hand warmers, you might as well snag matching unicorn foot warmers. These slippers are so plush, so purple, and will keep your toes nice and warm.
It'll be so much easier to get work done when you have these smiling toast hand warmers keeping you cozy. Prepare for a whole lot of jealousy in the office.
What's better than owning a pet corgi? Owning a pair of corgi slippers that are beyond cute, heat up your feet, and make the winter months much more bearable. Once again, prepare for your heart to burst from the sheer adorableness of it all.
More of a cat person? Indulge in these super soft, super plush heated slippers. Warm feet + furry cat = dreams really do come true.
I mean, if you're gonna wear heated plush cat slippers, you might as well wear a heated cat neck warmer as well. You're a cat lady and PROUD OF IT, damnit.
S'mores in a campfire? Very good. S'mores on your feet? Very, very good. You should definitely cozy up with these slippers while eating all the chocolate. I mean, you want to stay as on brand as possible.
Be the true Dragon Queen that you are with these heated slippers. They might not spit out real fire, but they'll certainly keep your feet nice and toasty.
Here's to cold months filled with all the plush coziness. Your hands and feet will definitely thank you.
We are a participant in the Amazon Services LLC Associates Program and may earn fees by linking to Amazon.com and affiliated sites.
This article was originally published on