Here's Why I Only Want Hand-Me-Downs For My Third Baby Shower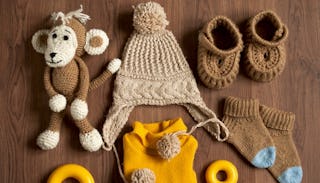 Shutterstock | ABulash
When my husband and I found out we are expecting baby No. 3, we were shocked. Before that positive test, we were fairly certain that we were done having kids, but now we are thrilled to be welcoming another baby into our lives. When we told friends and family, it wasn't long before some of my favorite females began to voice excitement over planning a baby shower on my behalf.
But, before they start looking up awkward games and choosing a cute party theme, I have one sincere request: Seriously, don't buy me new stuff. I mean that. I am practically begging you.
After surviving two babyhoods followed by the chaos of two toddlerhoods, I have this early parenting thing down pat. I already know that I won't use a wipe warmer or a baby bidet for spraying poo from a cloth diaper (because honestly, I love cloth diapers but I won't be using them). I also know that we will co-sleep and that a crib will really just be a giant laundry basket because this is not my first rodeo.
I know that I won't need an umbrella stroller or bottle warmer or bibs. I won't need a lot of things because I know we won't use them, and we are starving for space as it is. And really and truly, if I am being honest, I don't want brand new things at all. The allure of a Pottery Barn or Land of Nod nursery is now lost on me. I swear those things are for parents and not kids. Who buys a shag white carpet for a child's room?! I'm too practical for that shit now!
You know what I do want, though? I want your old stuff. Give me all of those hand-me-downs, mamas! I want hand-me-downs of your favorite onesies and books and gently used toys that have meaning and stories behind them. I want the things that you don't need and won't likely keep, but that you can't bring yourself to donate. It will warm my heart to know that your child loved them and now mine will too. (I will even send you pictures, I promise.)
I want to open your gift and hear you tell me the story behind it. The stretchy Moby wrap you used to hush your colicky babies, the hand-knit wool booties that kept your baby's feet warm in the NICU, the baby blanket with the worn edge from endless nights of fussing — I want to hear those stories and feel your love. I want that to be a part of my baby's experience.
For each of my children, I have kept very few things, only the most worn and loved items that would break my heart to lose. Those things, as broken and old as they may appear, are in a wooden chest where I will keep them until my babies grow up to be parents themselves. Old teddy bears and blankets, booties, and rubber ducks — I'll save those things forever.
But for baby No. 3, my last child, I want to surround this child with all the love of my most treasured mom friends as our final chapter of pregnancy, labor, and newborn babies approaches. We are all done, or almost done, having children now. I hear the whispers and the sighs, and I see the growing excitement for bigger kid adventures that are coming for us all. And so for this small pocket of time, I want to savor babyhood as much as I can before these days are all gone.
So please, my sweet, loving, well-meaning friends, don't buy new things. Dig through your piles of old clothes, look through that old box of baby gear in your attic, pull out the goofy books and wonderfully funny toys, and find a new home for them in my house where we will appreciate and honor the love. I can't wait.
[free_ebook]
This article was originally published on