Handmaids Are Here To Remind Everyone The GOP's Health Care Bill Sucks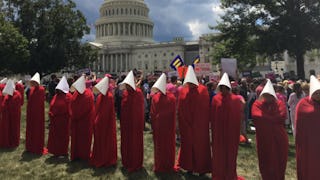 Image via Twitter.
The GOP's latest bill is a slap in the face to women.
Women: They're our mothers, sisters, friends, and more than half of the U.S. population. But the Republican party doesn't think ladies deserve health care, which is why the Handmaids took their protests to Capitol Hill this week.
If you're not familiar with the concept let us catch you up. The Handmaid's Tale, a novel by Margaret Atwood, is set in a dystopian future American city where women are controlled by their husbands and have one purpose: reproduce. In this alternative future state, the democratic government has been overthrown and replaced with a totalitarian one. Hulu made the tale into a miniseries that was released this year and echoes the current political climate in America.
Since the latest health care bill from the GOP would severely hurt women, protestors decided to dress in the Handmaids fit – red robe, white bonnet – and take their march to Washington. The cuts alone to Medicaid would leave millions of women (and men) without their primary health care. Planned Parenthood would also be gutted, and tons of women would be priced out of maternity coverage.
"It would be the worst bill for women in generations and decimate women's healthcare. It's a healthcare bill with no healthcare," said Fern Whyland, communications director at Planned Parenthood Empire State Acts. Volunteers dressed like handmaids and traveled from New York to Washington for the protest. Elena Lipsiea, one of the women who dressed as a handmaid, told The Hill: "Dressing up as a handmaid gives a clear message to our administration and the Senate about how seriously we take their decisions and how radically it can affect our lives." Handmaid-style protests have popped up across the country as the Republican party tries to limit women's access to medical services.
Taylor Lorenz, who writes for The Hill and Mic, posted various photos of the 30 or so protestors on Tuesday. She said that at one point the women waited in the pouring rain for the chance to yell "shame" at GOP leaders who exited their offices. If you don't think these politicians should feel bad about their "political opinion" consider this: the country's largest organization of doctors has spoken out against the GOP's plan to dismantle Obamacare.
[tweet
H/T HuffPost