27 Popular And Iconic Hanukkah Songs Perfect For The Festival Of Lights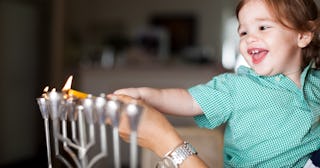 tovfla/Getty
As soon as winter starts to creep in, Christmas tends to take over. Most major markets have at least one station playing nonstop Christmas music — after all, there are a lot of them. And every once in a while, they play that classic and universally beloved Hanukkah song made especially famous by Adam Sandler. (You know the one.) But what if you're celebrating Hanukkah with the fam-bam, throwing a festive Hanukkah party, or just looking to enjoy the season and celebrate the festival of lights? What other Hanukkah music exists out there beyond the three-song loop of "Ma'oz Tzur," "The Dreidel Song," and "Oh, Hanukkah"? Oh, so much more than you know!
You can thank some pretty popular musicians for their contribution to that, too. The late, great Leonard Cohen, members of Barenaked Ladies, Jack Black, and, of course, Adam Sandler, among others, have recorded instantly iconic Hanukkah songs that run the gamut from pop, swing, rock, jazz, and even metal. Luckily for you, we have rounded up our favorite Hanukkah songs perfect for that party playlist. And just for fun we also included some sweet, more traditional songs for your kiddos and a couple of names you may not already be familiar with. Hopefully, these tunes can find their way into your celebration and playlist.
Hanukkah Songs to Play on Loop This Year
1. "Hanukkah, Oh Hanukkah" — Shir Soul
This cover of 'Hanukkah Oh Hanukkah' is simply lovely. The men of Shir Soul do things Pentatonix-style and even went all out on the music video. It's an excellent spin on a classic.
2. "Hanukkah Song" — Adam Sandler
Whether you love Adam Sandler or nearly lose an eyeball trying to keep from rolling your eyes, you have to admit: At this point, his "Hanukkah Song" is pretty much a classic. And it makes the kids laugh. So, there's that.
3. "Hanukkah, Oh Hanukkah" — Glee Cover
Die-hard Glee fans routinely bring out the series' holiday album come December, and that includes this super catchy and modern cover of "Hanukkah, Oh Hanukkah" — an instant classic when it debuted back in 2012.
4. "Swingin' Dreidel" — Kenny Ellis
This swing version of the dreidel song is so fun it's already become a mainstay on every future Hanukkah playlist.
5. "(I'm Spending) Hanukkah In Santa Monica" — Tom Lehrer
This little-known Hanukkah song from the big era of Frank Sinatra and Sammy Davis Jr. is so charming and funny it'll be the perfect background music for some latke making and eating.
6. "Light One Candle" — Peter, Paul And Mary
While "Light One Candle" was originally written in 1982 as a way to address the 1982 Lebanon War, it quickly became known as a "Hanukkah song." Even people who didn't consider themselves fans of folk music appreciated the lyricism and intentions behind the music. A year later, when Peter, Paul and Mary performed the song in Israel, they added lyrics to address the religious and political issues faced by the audience. The end result was met with cheers and applause.
7. "The Rockin' Dreidel Song" — Sha Na Na
In the mood for a more "Rockin' Around The Christmas Tree" vibes? Sha Na Na obliges with their rock 'n roll Hanukkah song.
8. "8 Days (of Hanukkah)" — Sharon Jones and The Dap-Kings
What better time to introduce a bit of funk and soul into your Festival of Lights than right now? Sharon Jones and the Dap-Kings have long been a staple in the contemporary soul scene, members of the Dap-Kings even perform alongside the late Amy Winehouse on "Rehab." Jones was well-loved and appreciated across the music scene and continues to be on the tips of many tongues, even after her passing in 2016.
9. "How Do You Spell Channukkahh?" — The LeeVees
This satiric song could have easily been written by Adam Sandler but the LeeVees get all the credit here. Not only did they record a rock Hanukkah song, they also tackled the age-old dilemma: How do you spell Hanukkah/Chanukkah?
10. "Spin It Up" — Erran Baron Cohen
If the name sounds familiar, that's because the musician behind this song and the album it's on, Songs In The Key Of Hanukkah, are written and composed by comedian Sacha Baron Cohen's brother. A talented musician, Baron Cohen has also composed the music for Borat, Brüno, The Dictator, as well as his little brother's TV series Da Ali G Show and Who Is America?
11. "Oh, Hanukkah" — Jack Black
OK, not to beat this song to death, but it is a favorite classic with many different covers. Including this fun one from actor, comedian, and singer Jack Black.
12. "Hanukkah Snowman" – Phranc
With adorable lyrics that open with "How come the snowman's never dressed for Hannukah? How come he's never wearing a yarmulke?" this song is bound to bring a smile to your face.
13. "Honeyky Hanuka" — The Klezmatics
If this song from The Klezmatics doesn't put a pep in your step, we don't know what will!
14. "Miracle" — Matisyahu
You probably know of Matisyahu. After all, how many Jewish reggae singers and rappers are there in the world? The video for "Miracle" might star multiple Santas (including Matisyahu himself), but the song is most definitely a Hanukkah song.
15. "Hanukkah Gone Metal" — Gods of Fire
Any metal fans in the house? You can stay true to your tastes as you light the menorah this year with this truly metal Hanukkah song by Gods of Fire. Bet you didn't know Hanukkah could be metal!
16. "I Have A Little Dreidel" — Barenaked Ladies
Instantly iconic cover, amirite?
17. "Hanukkah Dance" — Woody Guthrie
What can we say about Woody Guthrie that hasn't already been said a million times prior? He was a folk pioneer and now legend with deep Jewish roots. "Hanukkah Dance" is one such time when he paid tribute to said heritage.
18. "The Hanukkah Waltz" — Bela Fleck & the Flecktones
If you don't follow bluegrass or banjo music, the name Bela Fleck may not mean much to you. First, you should know that, yes, he is Jewish. In the right company, Bela Fleck is a rock star, a banjo legend, and a musical genius. He has used his career and musical gift to explore multiple cultures. He even traveled to Africa to, among other things, explore the heritage of the banjo. Fleck and his wife, musician Abigail Washburn, have long been committed to sharing in and appreciating other cultures with bluegrass fans.
19. "If It Be Your Will" — Leonard Cohen
Despite his own struggle with religion later in life, Leonard Cohen is a bit of a Jewish musical hero. He's written many songs about life as a Jewish man and even referenced his beliefs in his most popular (and most covered) track, "Hallelujah." "If It Be Your Will" is our favorite, though.
20. "Give You Everything" — Buzzy Lee
If ballads are more your style, this Hanukkah-themed love song will put you in the mood.
21. "Oy Chanukah, Oy Chanukah!" — Klezmer Conservatory Band
A traditional Yiddish holiday song, "Oy Chanukah, Oy Chanukah!" captures the festive activities held during the eight nights of Hanukkah — think dancing the hora, spinning the dreidel, enjoying latkes, and lighting the menorah.
22. "Hanukkah Blessings" — Barenaked Ladies
That's right; the Canadian rockers known best for singing "One Week" also have a holiday song about, well, one very particular week: Hanukkah. Inspired by frontman Steven Page's children, the sweet song reflects on the happiness and meaning of the holiday.
23. Hanukkah Songs for Kids
Because kiddos love to sing, too, right? We found this super cute video full of little Hanukkah ditties your tiny human might already know… or will soon.
Hanukkah Songs Lyrics
A big part of tradition is being able to pass songs down to your children so they can teach their kids and so on. We've included lyrics for a few Hanukkah songs to ensure you and your family learn all the words.
24. "I Have a Little Dreidel"
Well I have a little dreidel I made it out of clay And when it's dry and ready Then, dreidel I shall play. Oh, dreidel, dreidel, dreidel I made it out of clay And when it's dry and ready Then, dreidel I will play. It has a lovely body With legs so short and thin And when it gets all tired It drops and I will win. Oh, dreidel, dreidel, dreidel I made it out of clay And when it's dry and ready Then, dreidel I will play. My dreidel is so playful It loves to dance and spin A happy game of dreidel Come play now, let's begin. Oh, dreidel, dreidel, dreidel I made it out of clay And when it's dry and ready Then, dreidel I will play.
25. "If It Be Your Will"
By Leonard Cohen If it be your will That I speak no more And my voice be still As it was before I will speak no more I shall abide until I am spoken for If it be your will If it be your will That a voice be true From this broken hill I will sing to you From this broken hill All your praises they shall ring If it be your will To let me sing From this broken hill All your praises they shall ring If it be your will To let me sing If it be your will If there is a choice Let the rivers fill Let the hills rejoice Let your mercy spill On all these burning hearts in hell If it be your will To make us well And draw us near And bind us tight All your children here In their rags of light In our rags of light All dressed to kill And end this night If it be your will If it be your will
26. "Latkes Are Sizzling"
(to the tune of "When Johnny Comes Marching Home")Latkes are sizzling in the pan,Hurrah! Hurrah!Latkes are sizzling in the pan,Hurrah! Hurrah!Latkes are sizzling in the pan,Turning into a crispy tan,Now, sit down! It's time to eat our Hanukkah latkes!
27. "How Many Candles?"
(to the tune of "Are You Sleeping?")How many candles, How many candles,Do we light? Do we light? How many candles Do we light The [first] night? The [first] night?[One] little candle,[One] little candle We do light, We do light. [One] little candle We do light The [first] night, The [first] night.
This article was originally published on