Netflix's 'The Harder They Fall' Trailer Is Here And Fans Can. Not. Wait.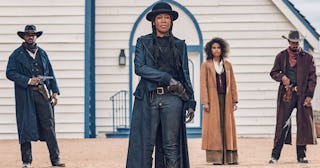 DAVID LEE/NETFLIX
From the star-studded cast to the stunning filmography, Netflix's "new school" western has everyone waiting for fall
Although there's no official release date yet, Netflix dropped the trailer for The Harder They Fall today, giving us our first good look at the feature-length Western that looks like the most fun ever and that contains more stars in it than the Milky Way.
Hitting screens sometime this fall after major delays due to the COVID pandemic, the movie is described as an action-packed "new school" western and features a predominantly Black cast of some of the biggest and best names in Hollywood.
The plot seems to be a cowboy classic, with some modern updates and reimagining: outlaw Nat Love hears that the man who murdered his parents is no longer in jail and assembles a gang from across the Wild West to seek revenge. But the murderer, bad guy Rufus Buck, is also getting his gang together in order to raise more hell. The result is an action-packed clash of the titans that involves, as far as one can tell from the trailer, a ton of gun-slinging, train antics, one-horse towns, saloons, stagecoaches, showdowns, and the like.
Now are you ready to hear about the killer cast?
Star Nat Love is played by Jonathan Majors (Lovecraft Country) while his gang includes Zazie Beetz (Atlanta, Joker), Edi Gathegi (Twilight, The Blacklist) and R.J. Cyler (I'm Dying Up Here, Scream).
Villain Rufus Buck is played by Idris Elba (do we really have to list all of his credits?) while his own gang is made up of Regina King (again, you know) and LaKeith Stanfield (Atlanta, Judas and the Black Messiah). How are we going to stop ourselves from rooting for the bad guys? We are not sure.
Other stars that round out the cast include Delroy Lindo (Da 5 Bloods), Danielle Deadwyler (The Haves and the Have Nots), Damon Wayans Jr. (Big Hero 6, New Girl) and Deon Cole (Black-ish).
The film is directed by British singer-songwriter and music producer Jeymes Samuel (trivia: his brother is Seal). Known by his stage name The Bullitts, Samuel started dabbling in filmmaking in 2013 when he released a modern western short, They Die By Dawn — and The Harder They Fall will be his feature-length directorial debut. Samuel also co-wrote the movie along with Boaz Yakin, a writer, director, and producer who has a number of action movies under his belt including the Jason Statham flick Safe.
Many of the movie's characters are based upon real-life historical figures of the American West, including Wild West performer Bill Pickett, complete badass Stagecoach Mary, mountain man Jim Beckwourth, and outlaw Cherokee Bill.
Shawn Carter/Jay-Z is a producer on the movie as well, and is said to have contributed original music to the film.
The trailer does not disappoint. In a little over two minutes, we are instantly transported to the old west, and everything looks amazing, from the posh sets and cinematography to the highly stylized costumes. Old school Western shots, like one of a small one-street town, mix with modern music and fresh angles — and the action looks amazing. It's going to be a long summer of waiting.
The movie is set to be released both in your living room on Netflix's streaming platform and also in a limited release in theaters — a move that historically means Netflix thinks it could be an Oscar contender.