Harry Styles Releases Teaser Trailer For 'Adore Me' And We're Pretty Excited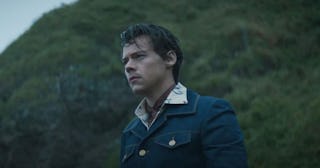 Harry Styles/Youtube
Will Harry Styles' new song bring some much-needed sunlight to the island of Eroda? Only time will tell
Former One Directioner Harry Styles has a new song out at the end of this week, and to get people hyped up for its release, he's trying a whole new marketing strategy: He just released a teaser trailer for the song that lays out its entire back story before the full track drops on Dec. 6.
The new song is called "Adore You," and the teaser trailer centers on the cold, gray, dreary island of Eroda (which eagle-eyed fans have noticed is "Adore" spelled backward). The island itself is shaped like a frown, and its residents live under never-ending cloud cover, always afraid that any display of cheer will come with consequences — one man whistles and is almost immediately blown away in a gust of wind.
The Eroda residents' frowns come to be known as Resting Fish Face. But that all changes when a new boy is born on the island. You guessed it — that boy is Harry Styles, and he practically bounds out of the womb with a smile on his face. As he grows up on the cold, gray island, his smile routinely blinds other residents, sets their umbrellas on fire, and has them reaching for the SPF to try to block its rays. He's just a happy boy on a very sad island — what's he to do?
Well, eventually young Harry Styles goes the way of the island's other residents and loses his smile. That's apparently just how things work on Eroda. In a fit of despair, he walks out into the sea one day, but there he finds someone else who seems just as sad as he is: A beautiful gold fish. As he wonders how such a beautiful fish could be so sad, "To Be Continued…" fills the screen, and apparently, we just have to wait until "Adore You" drops to find out what happens next.
Predictably, Styles' fan base is here for this new way of marketing a new song.
https://twitter.com/jetpack/status/1201506175604285441
Yes, this trailer is weird. But so is the entire concept of releasing a teaser trailer for a song, and Styles is leaning all the way into that weirdness (there's even a Twitter account for Eroda tourism) and the result is actually pretty fun.
As someone who is not a big Harry Styles fan, this has me curious about his new song, and I'll definitely be looking up the video to find out the ending to the story.