Harry Styles Performs Concert On James Corden's 'Crosswalk The Musical'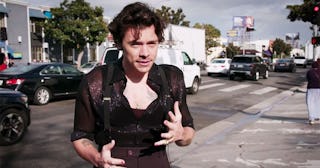 CBS/Youtube
Harry Styles joined James Corden on "The Late Late Show" for his ongoing segment "Crosswalk the Musical"
Once upon a time it seemed impossible that anything could come close to the hilarity of James Corden's brilliant series Carpool Karaoke, which placed some the most famous people in the world in Los Angeles traffic where we get to hear them sing and talk about whatever Corden brings up. However, Corden's ongoing The Late Late Show segment dubbed Crosswalk the Musical might be a whole other level of comedic genius. Last month, he invited the cast of Frozen 2 to perform the movie in the middle of one of Hollywood's busiest intersections and had us peeing our pants in laughter. This week, he invited former boy band idol, the totally adorable Harry Styles to perform some of his latest hits in a — well — less than desirable intersection.
The segment aired during Wednesday's The Late Late Show. Styles, who happened to host the show earlier in the week, wasn't too enthused with Corden first mentioned the idea to him.
"I love James, but there's no way I'm doing this. It's an insane idea," Styles panned to the camera. "Insane?" Corden responded. "You know who didn't think it was insane? The Beatles. What do you think Abbey Road was all about? That was the first ever crosswalk concert. And Paul wasn't wearing shoes."
"Think about it, Harry. You're always saying you're better than The Beatles. This is your chance to prove it," Corden said to Styles. "I've literally never said that," the former One Direction singer deadpanned.
But before the performance, Corden urged the importance of promoting the concert. The two took to the streets of Los Angeles handing out fliers — which were super hilarious. One of them featured Styles as a young boy holding a dog, with his last name blatantly misspelled as "Stiles." Another featured the face of Justin Bieber.
"Hello, there's a show today. Don't know why," Styles hilariously told people as he passed out the hot pink pieces of paper.
Once it was showtime, Styles, decked out in one of his super over-the-top costumes, performed his hit "Kiwi." He ended up getting really into it, even grinding his booty onto a stranger's car hood.
Then, he crooned a single from his brand new album Fine Line. "The next song, Lights Up, is about self-acceptance and the freedom that comes with being open and vulnerable—a theme that, I feel, is best represented by modern dance. You're welcome," he told everyone at the intersection.
Corden played backup dancer to Styles, twirling and swirling in a metallic gold-caped costume.
"It's a fine line between insanity and genius, but I'm beginning to think that James might just be a genius," Styles quipped after running out of the crosswalk during a light change. Then, he saw the host strut by decked out in a rather interesting watermelon costume to perform Watermelon Sugar. "Like I said, it's a fine line," Styles added.
After receiving some honks during the number, Styles expressed worry that people were getting "mad" at him. "Harry, they aren't getting mad," Corden told him. "You are a trailblazer. Trailblazers don't give up. People said that Ja Rule couldn't build a musical festival on a private island. Did he give up?"
The show didn't end with fruit, however. Despite Styles' hesitation, Corden insisted he end things with a big finale in the form of Sign of the Times. Paying homage to the official music video, Corden thought it would be a great idea to send the star out suspended on a zipline, "one of the most exciting, dangerous" stunts performed on the show. Of course, he ended up getting stuck, and performed the rest of the song while being dragged by Corden and the rest of his dancers.
We could go on and on about how funny this segment is, but do yourself a favor and just watch it.