'The Haunting Of Hill House' Is Coming To Universal's Halloween Horror Nights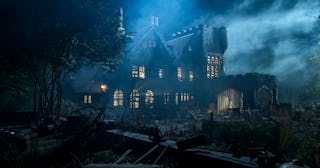 Netflix
Universal Studios is making "The Haunting of Hill House" part of their Halloween Horror Nights this year
Remember back in 2018 when we were all glued to Netflix's super scary series The Haunting of Hill House? I'm still not over episode five but I'll have to put a pin in working through that because now I need to devote all my energy to freaking out over Universal Studio's announcement that they'll feature a Hill House maze as part of their Halloween Horror Nights. Are you all ready to scare the living crap out of yourselves? Let's go.
Here's a teaser of what's to come this fall. Maybe don't watch it alone or in the dark? I mean, I don't own you, do whatever. Just saying.
Y'all, I have so many questions but chief among them is, will Universal Studios provide a change of clothes for when folks both wet and poop their pants? Because OMG. I'm a bonafide horror fan and not much freaks me out but binge-watching The Haunting of Hill House had me waking my husband when I had to go to the bathroom at 3am because I couldn't bring myself to walk the 20 feet alone. This experience will likely scare the literal pants off people so obviously I'm looking into booking it for my own family. I don't learn from pain.
In a press release, the show's creator Mike Flanagan sounds really pumped to have Hill House included in Universal's popular event. "I have loved Halloween Horror Nights for so long. Some of my favorite memories of Halloween were made at Universal Studios, screaming and laughing with my friends. It is such an honor to be included among such fantastic Haunts, and I'm so glad that fans will be able to walk the halls of Hill House this Halloween."
He continued: "This is – without a doubt – one of the coolest things that's ever happened to us at Intrepid (Pictures). We are so excited to visit the Red Room again – we hope to see you all there!"
The maze will feature the terrifying Red Room, the Hall of Statues, and characters like the Ghost in the Basement, the Bent Neck Lady and Tall Man. My Apple watch is probably wondering if I'm exercising now because my heart is currently racing.
"Mike Flanagan has elevated the horror genre with his supernatural thriller, 'The Haunting of Hill House,'" says John Murdy, executive producer of Halloween Horror Nights at Universal Studios Hollywood. "We continuously challenge ourselves to raise the bar with each maze we create, and we look forward to creating a unique experience for our guests that combines both the psychological and visceral twists from the series.
So if you want to give it your all and try not to die of fright, you'll want to grab tickets quick. Events begin Friday, September 3 in Orlando and Thursday, September 9 in Hollywood. Halloween Horror Night events in both locations will run on select nights through Sunday, October 31. Happy Haunting!