Winter Won't End So Snuggle With A Heated S'mores Pillow
by Julie Scagell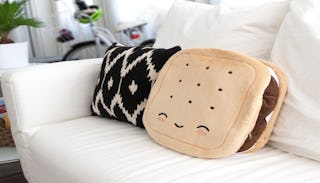 Image via Amazon
If snuggling with a S'Mores shaped pillow is wrong, I don't want to be right
If you live, well, anywhere right now, odds are you are freezing your balls off. There has been record breaking cold, bomb cyclones, and snow and ice all over the damn place. It can leave a person wanting nothing more than to stay indoors and cozy up to a giant heated S'More.
Wait, what?
No seriously, there is actually a pillow in the shape of everyone's favorite summer treat — and it's heated. The Smoko S'mores Heated Pillow is selling right this minute on Amazon for a mere $40. It is adorable, sure. But as I sit here wrapped in a fleece blanket with wool socks and a hooded sweatshirt next to the fireplace, it also seems to be pretty functional.
The wireless and cord-free pillow is battery-powered and will stay warm for 4-6 hours, according to Amazon. It also comes with a rechargeable lithium battery if you need the extra reassurance.
Just think of the places you could use this puppy — your kid's hockey games, in the car on the way to school drop-off, in your office, and generally anywhere you find yourself freezing your buns off. So, basically everywhere in America because we've all been under a winter weather advisory since Thanksgiving.
If S'Mores aren't your jam, Smoko also makes in the shape of a fox and a pad of butter, because of course they do.
"And if you order in the next ten minutes, we'll throw in a pair of identically shaped slippers for free." OK, that's not entirely true but check out these freaking heated slippers that match the heated pillow.
Are you kidding me right now? I am a woman in my forties and I am asking for 3 sets of these for my birthday. Yes, I will embarrass my kids when I wear them to the grocery store and no, I don't give a rat's ass if we run into one of their friends.
You can plug the slippers into a USB computer port or wall adapter to turn on the heat and get those suckers cranking out the warmth. Of course, you can unplug them to walk around and they will stay heated for a time or you can walk 57 inches whilst still plugged in to their USB cable.
I don't know about you but I'd be willing to walk in a 57 inch circle for most of the day to guarantee my feet stayed toasty this season.
Consider the combo set for anyone still dealing with the winter blues or as a present for your always chilly friend. Rest assured, you'll quickly move up the list of most favorite gift givers in all the land.
This article was originally published on