Not Everyone Can Be A Foster Parent, But Everyone Can Help Support Children In Foster Care
by Christine Organ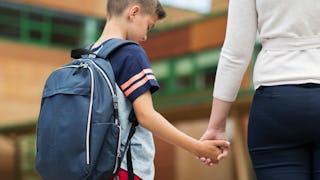 Syda Productions / Shutterstock
There are more than 400,000 children living in foster care, with nearly half of them living with nonrelative foster families. Some of them will be adopted. Some will return to their biological parents. Others will spend their entire childhood in the foster care system. Foster children are a variety of ethnicities and ages and come into the system for a variety of reasons. But regardless of gender, age, ethnicity, or background, they all need love and support.
The world can feel overwhelming sometimes, amirite? Our newsfeeds are flooded with articles about the toxic political environment. The nightly news is a doomsday damage report, and just one look at the images from places like Syria and Afghanistan make me want to curl up in the fetal position and sob. The problems are so big that it sometimes feels pointless to even try.
But as much as we might want to shut our eyes and turn away from it all, we know that isn't the answer either. Even though we can't fix everything, we can always do something.
When people think of ways to get involved in the foster system, the first thing that comes to mind is becoming a foster parent. For many of us, however, becoming a foster parent isn't an option — or it isn't an option right now. But that doesn't mean there aren't other ways we can help.
Here are just a few:
Fulfill needs of foster children and families.
Foster children have needs just like any other children. They want to ride a bike and learn to swim and join a soccer team. But because these activities can be expensive, and most of a foster child's stipend goes to essentials like food and clothing, many foster families have little money left over for extracurricular activities. Donations of money and goods to foster families and agencies can go a long way in helping a child feel more at home while in foster care.
For instance, the organization One Simple Wish posts "wishes" of foster families from around the country and donors can fulfill these wishes. For instance, a foster parent in Maryland might submit a wish for soccer cleats for her 8-year-old foster son, or a parent in Texas might submit a wish for theater classes for her 12-year-old foster daughter. These wishes can be fulfilled by anyone anywhere. You can search by price range, state, wish type, holiday, and gender of a child to find the donation that works for you.
When children enter foster care, they are usually given a trash bag to hold their belongings. Talk about heartbreaking. But organizations like Together We Rise understand that the little things can make a big difference. The organization provides new duffel bags filled with comfort objects and necessities such as a teddy bear, blanket, and hygiene kit for children entering foster care, as well as free bikes, family photographs, and scholarships for children already in foster care.
Give foster children memorable experiences.
You can also help make holidays and birthdays enjoyable for foster children. For instance, Beverly's Birthdays in Pittsburgh creates birthday celebrations for foster children, homeless children, and other children in need by providing them with a party, gifts, and classroom cheer kits.
If you're looking for something close to home, reach out to local foster families and see what they need. Offer to fund a summer camp or other activity. Bring meals or give gift cards to local restaurants. Even a supportive shoulder to cry on or an ear to listen can be helpful.
Mentor a foster child.
Volunteering for organizations like Big Brothers Big Sisters and the Boys & Girls Club can also have a significant difference in the life of a foster child. You don't need to house a child in your home to love them, guide them, teach them, and show them just how awesome they are. And a child can never have too many responsible and supportive adults in their life.
Provide respite care.
For many foster families, one of the biggest hurdles they face is finding respite care for their children. Respite care is short-term childcare — whether for a few hours, a day, or a weekend — so that the foster family can attend appointments or just get a break for a night. If caring for a child full-time isn't right for your family, but you want to take a more active role in the foster system, respite care might be a good option.
As we all know, childcare and babysitter expenses can add up quickly, but foster parents need a break now and then just like the rest of us, and because foster children might have special needs or be fearful of strangers, a regular respite care provider can go a long way in helping the foster child feel comfortable.
Respite care can be especially helpful for foster families caring for children with special needs. For instance, Cynthia Miller, a foster parent in the Chicago area, told Scary Mommy that twice monthly respite care was incredibly important to helping her family foster a medically fragile child. "Just knowing there were two Saturdays when we would get a break, often gave us the mental and emotional support we needed so that we could keep doing this," she said.
Regardless of the time, money, or energy you can afford, there's always something you can do to help — whether it's one of the suggestions in this article, encouraging and commending any foster parents you know, or even just sharing this story so others might learn more about ways to help foster children. These are children, people. We can't look away any more.
This article was originally published on