What Can I Feed My Child To Help Them Gain Weight?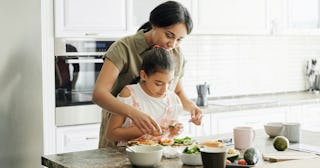 August de Richelieu/ Pexels
A mama's heart generally has at least a sneaking suspicion when something is amiss with her child. So, if there's a nagging voice in your brain telling you that perhaps your little one isn't gaining enough weight, listen to it. Talk to your pediatrician. It could be perfectly fine, in which case you'd be guilty of a simple overreaction (better safe than sorry, right?). But you may also find that your child's doctor confirms your concern: Your child's weight isn't quite where it should be.
RELATED: 10 Healthy Snack for Kids Options — When The Snack Monster Comes, You'll Be Ready
Don't panic, though. Your child's doctor can work with you on a tailored plan to help your little one pump up their diet. Plus, if there are any underlying causes for your child's struggle, they can address that as well. In the meantime, let's take a look at this issue and some healthy foods that can help along the way.
Why is my child not gaining enough weight?
It goes without saying that this is part of a larger discussion you'll need to have with your child's pediatrician. However, there are several common reasons some children struggle to gain weight. Perhaps the most common is also the most obvious: They aren't eating enough food to actually meet their body's needs.
Other reasons infants and children may have trouble putting on weight include difficulty latching or lack of eating/coordination skills, food insecurity, food allergies, increased energy requirements, medications that inhibit appetite, sensory/texture disorders, chronic or recurring infections, swallowing dysfunction, an underlying disease or condition, and the list goes on.
RELATED: Top 10 Healthy, Easy-To-Feed Baby Snacks (Because No One Likes A Hangry Baby)
How do I know if my child isn't gaining enough weight?
You may suspect it intuitively. Or, knowing your child's weight and height from previous doctor's visits, you can tell the numbers haven't changed as much as you'd think they would — they don't seem to be tracking along with the expected growth pattern. However, it's also possible your child's pediatrician will point it out during a visit. Where you go from there is what's most important.
How can I help my child gain weight?
Since poor weight gain can lead to more serious issues such as Failure to Thrive or delayed mental development, it's something you want to address. Depending on why your child is struggling to gain weight, their health care provider may propose a variety of treatment plans. These may even include specialists or registered dietitians who will work with you to create a specific eating plan.
Having said that, your doctor may send you home with a list of suggestions for high-calorie foods to incorporate into your child's diet. Here, we're including suggestions that fall under that umbrella so that you can get a jump start on your child's healthy weight gain (although, again, always consult your child's pediatrician before making any big changes to your child's diet).
The goal, of course, is to promote growth. Be extra mindful in choosing how to discuss your child's dietary changes — the last thing you want is for them to feel anxious about their weight, or inadvertently contribute to any sort of toxic body culture.
Before you introduce any new food into your child's diet it's important to make sure your child is not allergic to it. Same goes for nutritional drinks like Ensure, KinderCal, or other weight-gain supplements.
What are some fruits and veggies that are high-calorie and/or nutrient-rich?
Avocado
Peas
Banana
Dried fruit
Coconut
Mango
Beet
Artichoke
Sweet potatoes
Potatoes
What are some dairy products that are high-calorie and/or nutrient-rich?
Butter
Cheese
Cream cheese
Heavy cream
Sour cream
Whole-milk yogurt
Ricotta
Powdered milk
Mayonnaise
Evaporated milk/sweetened condensed milk
What are some proteins that are high-calorie and/or nutrient-rich?
Hummus or other bean dips
Eggs
Nuts and seeds
Soy, tofu, and tempeh
Meats (beef, chicken, turkey, lamb)
What are some fats and sweeteners that are high-calorie and/or nutrient-rich?
Oils (canola, safflower, olive, coconut, etc.)
Pure maple syrup
Organic honey
Gravies
Which grains and starches are high-calorie and/or nutrient-rich?
Whole-wheat bread and pasta
Mashed, baked, or oven-roasted potatoes
Sweet potatoes
Corn
Oatmeal and hot cereal
Granola
Quinoa
Buckwheat
Breads
Whole-wheat pancakes and waffles
Should I give my child nutritional supplements to help them gain weight?
According to the Children's Hospital of Wisconsin, you should only give your child commercial nutritional supplements if you consult their pediatrician or dietician first. Some popular examples are Pediasure, Nutren Jr., Kindercal, Ensure, Resource, and Boost. More incentive to run it by your child's health care provider? You may be able to get the supplements at a reduced cost
What are some ideas of high-calorie and/or nutrient-dense snacks?
Avocado toast (add a little olive oil to bump up the fat and flavor)
Fruit smoothie made with whole milk (throw in some avocado!)
Bagel and cream cheese
Eggs and cheese on an English muffin
Granola bar or a nut bar and whole milk yogurt
Tuna salad on crackers
Trail mix
Nuts and seed butters spread on apples, bananas, and celery sticks
Homemade muffins or one large bakery muffin
Raw veggies, tortilla chips, or crackers with guac and hummus
Edamame with 1 tbsp. of olive oil
Zucchini or pumpkin bread slice with 2 oz. of cream cheese or honey
Egg baked in ½ avocado
Three chocolate chip cookies and one cup of chocolate milk
Cheese toast
Bull's eye eggs (aka eggs in a hole)
Roasted chickpeas
What are some ideas of high-calorie and/or nutrient-dense meals?
Peanut butter and jelly sandwich and a glass of milk (use Sunbutter if your child is allergic to peanuts and you're sure Sunbutter won't act as an allergen)
Frozen waffle toasted with coconut oil and topped with almond butter, fruit, and maple syrup
Yogurt with cereal and berries
Pizza
Avocado sushi roll
Nachos with beans, cheese, and sour cream
Chili cheese fries
Chicken drumstick with ½ cup mashed potato
Tuna or egg salad sandwich and a glass of milk
Grilled cheese sandwich or quesadilla
Pasta tossed in olive oil, then topped with breaded chicken and marinara sauce
Is there anything else to keep in mind?
If your child is underweight, just remember to always keep the lines of communication with their healthcare provider open. Be aware of any potential choking hazards for younger children, as well as common allergens. Try to provide structured meals and snacks so your child doesn't graze throughout the day, filling up on less nutrient-dense foods. Similarly, give your child the nutrient-dense foods before any beverages during mealtimes. And try to fortify their snacks and meals with full-fat dairy products or calorie-rich oils whenever you can.
It may seem overwhelming, but think in terms of "baby steps." Start with where your child currently is with their diet and work your way up. If your child is experiencing prolonged appetite loss that is not due to a temporary illness like a cold or a virus it's certainly an issue to bring up with their pediatrician.
This article was originally published on