'I Was Going To Break': Hilary Duff Opens Up On Why She Stopped Breastfeeding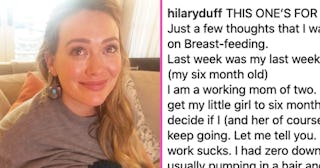 Hilary Duff via Instagram
'I needed a break. I was going to break.'
If you're a breastfeeding mom or have ever been one at any point in your life, you're going to want to read what Hilary Duff has to say about her decision to stop nursing her daughter. After six months, she's decided she can no longer keep up with it — yep, we're nodding along already. Because as wonderful as breastfeeding is, it can be so incredibly hard, too.
Duff, who welcomed her second child, baby Banks, last fall, decided to be completely candid about her breastfeeding journey.
"Last week was my last week nursing Banks (my six month old) I am a working mom of two," she writes. "My goal was to get my little girl to six months and then decide if I (and her of course) wanted to keep going. Let me tell you. Pumping at work sucks."
If you've ever had to pump at work during the day, you're going to feel her words in the deepest pit of your soul. Because pumping does, in fact, suck. Literally and metaphorically. It's nothing like the sweet bond you feel when you're actually nursing your baby. NOTHING.
The World Health Organization recommends exclusive breastfeeding for a baby's first six months of life. It makes sense, given the benefits of breastfeeding. But for so many moms, especially working moms, six months isn't always a realistic possibility.
"I had zero downtime and am usually pumping in a hair and makeup trailer while four hands work to get me ready for the next scene with lots of other people around," she explains. See? The lifestyles of the rich and famous aren't exactly luxurious all the time. Sure, most of us have to pump in dirty bathrooms or closets, but doing it in front of a bunch of co-workers doesn't sound much better. Duff is currently starring the TVLand show Younger with co-star Sutton Foster.
"Plus you are having your damn nipples tugged at by an aggressive machine that makes an annoying sound, that echoes through your head day and night," she continues. Not to mention the drop in milk supply many mamas face when heading back to work. Your milk ducts typically produce based on supply and demand, and even though that machine is demanding, it doesn't compare to the demand of a real-life baby.
She talks about all the ways she tried increasing her supply (if you belong to a mom group online, there's not a single remedy out there you haven't heard of, and most of them taste like crap). "It was maddening," she explains. And for so many of us, it is.
She says even though it was difficult trying to keep up and the pumping part was anything but ideal, she truly enjoyed nursing her daughter. "Felt so lucky to be so close to her and give her that start," she writes. "I know many women are not able to and for that, I am sympathetic and very grateful that I could. For six wonderful months. But I needed a break. I was going to break."
This isn't the first time Hilary Duff has been honest and endearing on social media when it comes to motherhood. Earlier this year, she crowdsourced suggestions for colic, and it was truly the most relatable moment. Because when your baby won't calm down, you can't calm down.
Basically, we appreciate any celebrity mom who uses her platform to bring us all together in our collective stress and guilt.
"I was sad and frustrated and feeling like a failure all of the time," she concludes her post. "When really I'm a badass rock star. Moms get high on feeling like superwoman…because we are! Doing too much, because we can!"
This article was originally published on