Hilary Duff Calls Out Trolls Concerned With Her Baby's Pierced Ears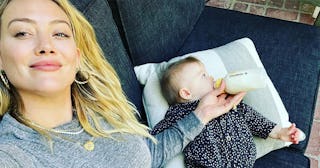 Hilary Duff/Instagram
Sharing a photo of sweet baby Mae getting her ears pierced, Hilary Duff got ahead of mom-shamers
If you're a parent, it can certainly feel like there's a never-ending supply of mom-shamers out there ready to criticize, comment on, or share their opinions about the "right" or "best" ways to be a parent. And if you're in the public eye… whew. You've got the whole world ready to share their thoughts about how you're doing raising your own kids. (By the way, let us assure you right from the jump, you're doing great.)
As a mom of three that has been in the spotlight since she herself was a kid, Hilary Duff is certainly no stranger to insidious shaming from complete strangers, and it's something she's managed to handle with grace and tons of humor. Duff recently shared a photo to her Instagram Stories of her 7-month-old daughter Mae getting her ears pierced, and the Lizzie McGuire alum got ahead of mom-shamers right off the bat, addressing any potential controversy in the caption of the adorable photo.
"Yes! I pierced her ears today," she wrote. "Can't wait for the internet to call me a child abuser….again," adding the peace sign emoji, "Lesss go."
It's unclear if Duff received any digital vitriol over the since-deleted picture, but she's sadly already been on the receiving end of hate about this very topic. Back in 2019, the Younger alum shared the sweetest photo of herself with her eldest daughter, Banks, when Banks was eight months old. Duff was immediately mom-shamed over the shot, in which her little one was wearing earrings.
In the comments section of her post, people likened Duff piercing her baby's ears to child abuse, calling it unnecessary and serves no purpose other than for aesthetic reasons chose by the parents.
Of course, any parent is free to make decisions for their children that they feel are best for them, and what is totally unnecessary is commentary from others about those decisions. It's also worth noting that piercing a baby's ears is a tradition that goes back literal centuries in several cultures and religions, believed to be a rite of passage that holds spiritual significance among people from a wide range of cultural and ethnic backgrounds.
As for Duff, she didn't share more about her reasons for piercing her daughters' ears, but here's the thing: She doesn't have to. She has every right to do as she pleases, and it certainly seems as if she's doing a fabulous job raising her kids. Mom-shamers, feel free to take a hike — on this and every other issue, please.