Hilary Duff Announces She's Expecting Again With Cute Bump Post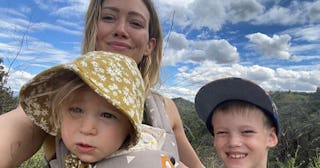 Hilary Duff Instagram
Hilary Duff announces she's pregnant with her third child
Congratulations are in order: Hilary Duff and her husband Matthew Koma are expecting! Duff and Koma announced the news in a series of cute Instagram boomerangs showing off Duff's growing bump, which means that Duff's son Luca and her daughter Banks are going to be big siblings.
"We are growing!!! Mostly me…" Duff captioned the sweet snap of her bump on Saturday, October 24, 2020.
Koma shared the same image, writing "lol quarantine was fun" and also, "Baby #3 – 2021." Duff shares 8-year-old son Luca with her ex-husband Mike Comrie, though Duff has previously said they're doing a great job as co-parents and little Luca actually walked step-dad Koma down the aisle at he and Duff's December 2019 wedding. Koma and Duff are also parents to daughter Banks, who will be celebrating her 2nd birthday on October 25.
Duff and Koma started dating in January 2017, welcomed their daughter Banks in October 2018, and then tied the knot at the end of 2019.
Duff said earlier this summer that she and Koma had been wanting to have another kid for a while but the pandemic temporarily put a hold on those plans.
"We're obsessed with our kids and [we're like], 'Should we do one more? Is this a good time?'" Duff told People over the summer. "It's tough because everything is so uncertain. Like, is it safe to have a baby right now? We don't know. Can we hold on for two years or is work gonna be crazy? We're always kind of talking about it and toying with the idea, but nothing too serious yet."
Duff loves to share her family's life and adventures on Instagram, but she's also super transparent about the highs and lows of motherhood, like when she was pregnant with Banks and took to Instagram to praise all the "bad ass" moms on this "hard as hell" journey. "Man…pregnancy is hard," Duff wrote in 2018. "Giving love to all mamas who make it look effortless… this journey is hard as hell."
Sending love to Duff and her growing family.