Nothing Says 'It's Almost Halloween' Like A 'Hocus Pocus' Yard Inflatable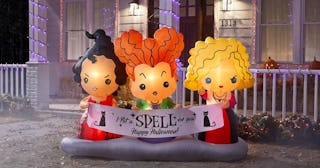 Home Depot
Who doesn't want the Sanderson sisters in inflatable form?
There's only 105 days until Halloween, folks. It's time to start thinking about all of your indoor and outdoor decor. The Home Depot is making the outdoor planning a little easier this year with everyone's favorite Halloween sisters, the Sandersons. They have a giant, four-and-a-half foot Hocus Pocus inflatable that will impress neighbors, trick-or-treaters, and passersby, alike.
You can't think about Halloween without thinking about Disney's Hocus Pocus. It's everything the holiday is about: spells, black cats, curses, and witches. The Sanderson sisters — comprised of Winifred (Bette Midler), Sarah (Sarah Jessica Parker), and Mary (Kathy Najimy) — deserve to be resurrected in all forms, and that includes a light-up inflatable that takes center stage on our lawn.
The sisters are wearing their famous dresses and their hair is on point. The designers even got Winifred's front teeth looking as amazing as ever. They're holding a banner that reads, "I put a spell on you," and "Happy Halloween!" with pictures of Thackery Binx for the win.
The best part of this inflatable is that it's self-inflating; so, you literally just have to plug it in, and no knickers will be getting twisted whilst decorating this year. It comes with stakes and tethers to hold it in place, too, so a strong wind won't send the sisters rolling down the neighborhood streets scarring children for life.
Hocus Pocus is an iconic movie that has a cult-like following. Its popularity requires a sequel that will be released in 2022. There's no word yet on what roles all three sisters will play in it, but they've hinted they will all be involved in some capacity —and that's enough for us fans to live on until its release.
If you haven't yet seen the movie (what in amok are you waiting for?), it follows the three infamous witch sisters who have been cursed since 1693 in Salem, Massachusetts. The witches are inadvertently resurrected 300 years later by teenager Max Dennison (the virgin who lights the candle), whose family moved from Los Angeles to Salem. He and sister, Dani, lead the sisters on an adventure as they try to thwart the trio's plans to become immortal.
The sisters have been reincarnated in several forms since the movies release in 1993. They have a movie-themed board game, canned wines, and they even came in clutch to save us during the pandemic with face masks.
The Hocus Pocus Sisters Scene Airblown Halloween Inflatable is available now at The Home Depot for $129. It's a small price to pay to have the Sanderson sisters living on your front lawn.