OMG: All 3 Original Sanderson Sisters Want In On The 'Hocus Pocus' Reboot
by Julie Scagell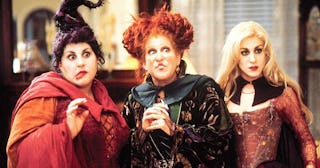 Disney
Sarah Jessica Parker, Better Midler, and Kathy Najimy would all do a 'Hocus Pocus' remake
If you spent at least part of Halloween night watching Hocus Pocus on repeat (thanks, Freeform), you're sure to be running amok at the following news — Bette Midler, Kathy Najimy, and Sarah Jessica Parker all say they'd be interested in appearing in some capacity in an updated version of the cult classic film.
Last week, fans of the movie found out another Hocus Pocus is in the works for Disney+ but there was no word given as to the involvement of the original stars. Now, it seems our thoughts and prayers may have been answered.
"Oh my goodness me. Oh, I hope they get to me before I'm a corpse," Midler told Entertainment Tonight Thursday night at Hulaween, a fundraiser for her organization New York Restoration Project. "We wanna fly again. I hope Disney+ is a big success and I hope we get to do it, because (Winifred) is, of course, one of my favorite characters. I can't wait to read the script. We're gonna see what happens." That sounds like a "yes" to us.
Najimy, who was also in attendance, echoed her costar's thoughts, saying in part that they all have very busy schedules, but would still love to join in on the remake. "… I'm happy that it's happening, because the fans are really rabid and they really want it… (And) if we're not all available to star in it, I think it would be so great to do a cameo. I think that'd be really fun."
If you've not yet watched the film, please, for the love, sit down immediately and watch it alone, with your kids, neighbors, and whomever else will sit still long enough to rope in. It's about three infamous witch sisters, the Sandersons, who were cursed in 1693 in Salem, Massachusetts. The witches are inadvertently resurrected 300 years later by teenage Max Dennison, whose family recently moved from Los Angeles to Salem. He and his adorable sister, Dani (played by Thora Birch,) end up trying to thwart the sisters' plan to live forever in a hilarious and perfectly-acted film.
Parker wasn't present for the exciting conversations but let her opinions be known via social media, posting a picture of the trip on set and saying, "We have all said yes. Now we wait."
"I would like to see a sequel, and I think that the fans would like to see a sequel," said the original director, Kenny Ortega. "I think it would be much more fun to bring the ladies back. They're all still vital and in their prime and capable of doing so much that it would be great to see Bette and Kathy and Sarah come back together to do another movie and I think they would like to."
We couldn't agree more.