The Hollywood City Council Is Trying To Get Trump's Walk Of Fame Star Removed
by Christina Marfice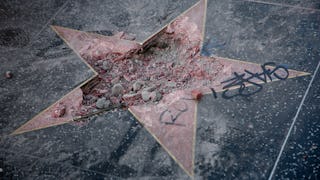 Image via Gabriel Olsen/Getty Images
The passed proposal is only ceremonial, but the Hollywood City Council hopes it helps oust Trump's Walk of Fame star
The West Hollywood City Council has passed a proposal asking for Donald Trump's Hollywood Walk of Fame star to be removed from the famed landmark on Hollywood Boulevard. The proposal is entirely ceremonial, since the city doesn't have any say over whether stars stay or go. But council members hope they can help sway the Hollywood Chamber of Commerce, which will make the final decision.
Council members John D'Amico and Lindsey Horvath brought forth the proposal, and now that it passed a vote by the city council, it will be included in a formal letter sent to Los Angeles Mayor Eric Garcetti, the Los Angeles City Council and the Hollywood Chamber of Commerce. The Hollywood Chamber of Commerce is the only one of those bodies that has any control over the stars on Hollywood Boulevard.
In the proposal, council members cited Trump's treatment of women and his denial of climate change as reasons they want the star removed.
"Similar to how certain members of the entertainment community have been removed from the Academy of Motion Pictures, due to their actions toward women, reflecting a stance on their values by the Academy, this is an opportunity for decision-makers to take a stand on their values in support of women and against disturbing treatment of women," they said ahead of their vote, which was held Monday.
West Hollywood Mayor Pro Tem John D'Amico told TheWrap that this was not a partisan decision."The West Hollywood City Council did not pass the resolution because Donald Trump is a conservative or a Republican. Earning a star on the Hollywood Walk of Fame is an honor. When one belittles and attacks minorities, immigrants, people with disabilities or women — the honor no longer exists."
Even though the city council's move doesn't mean anything for the fate of Trump's Walk of Fame star, it's still a pretty strong condemnation of Trump and his actions. And considering the cost to repair the star after multiple acts of vandalism (most recently when a man with a pickaxe completely destroyed it), maybe it's not the worst idea.
But the Chamber is unlikely to budge. After the pickaxe incident, they released a statement saying vandalism was no way to react to politics.
And despite a handful of campaigns to have stars removed in the 40 years the Walk of Fame has existed, it's never happened. In response to a 2015 attempt to remove Bill Cosby's star, the Chamber CEO said, "Once a star has been added to the Walk, it is considered a part of the historic fabric of the Hollywood Walk of Fame."
It really is too bad, considering Trump's ego, and what a blow this would be to it. But, like the Chamber said, we may just have to take out our rage at the ballot box.
This article was originally published on