40+ 'Home Alone' Quotes That'll Have You Saying 'Kevin!'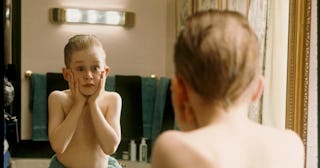 Twentieth Century Fox
What are the holidays without rewatching our favorite '90s Christmas movies? Settling down on the couch with a cozy blanket and popcorn and popping in a classic family flick is the perfect antidote to the busyness of the season. So, what makes a great holiday movie? One that you know and love so much that its movie quotes lend themselves to being repeated all year long! And as evidenced by the sheer volume of iconic Home Alone quotes, this 1990 cult classic is one of those movies.
Right now a few festive quotes from Home Alone have probably come to mind ("Keep the change, ya filthy animal!"), because the movie is that memorable. From Macaulay Culkin's career-making performance as young Kevin McCallister to Joe Pesci and Daniel Stern as the hilarious Wet Bandits, Marv and Harry, to Catherine O'Hara (now better known as Moira Rose) as Kevin's exhausted mom Kate, the John Hughes film is pretty much perfection when it comes to Christmas flicks. And let's not forget its sequel, Home Alone 2: Lost in New York. Sure, the plot was pretty much recycled — and there's a cameo by Donald Trump that's a bit awk now — but Home Alone 2 quotes are funny, too.
If you're a big fan of throwback Christmas movies, then you'll want to read on for the best Home Alone and Home Alone 2 quotes. We're pretty sure you're going to want to turn on the movie afterward and thank your lucky stars you don't have 11 kids to wrangle off to Paris.
Home Alone Quotes
"Did I burn down the joint? I don't think so. I was making ornaments out of fishhooks." — Kevin
"Guys, I'm eating junk and watching rubbish! You better come out and stop me!" — Kevin
"All kids, no parents. Probably a fancy orphanage." — Harry
"Mom, does Santa Claus have to go through customs?" — Brooke
"Keep the change, ya filthy animal." — Gangster Johnny
"I don't want to sleep on the hide-a-bed with Fuller. If he has something to drink, he'll wet the bed." — Kevin
"Look what you did, you little jerk." — Uncle Frank
"You're what the French call 'les incompetents.'" — Linnie
"Fuller, go easy on the Pepsi." — Aunt Leslie
"I wouldn't let you sleep in my room if you were growing on my ass!" — Buzz
"Buzz, your girlfriend. Woof!" — Kevin
"I took a shower, washing every body part with actual soap — including all my major crevices, including in between my toes and in my belly button, which I never did before but sort of enjoyed." — Kevin
"Say… is it true French babes don't shave their pits?" — Buzz
"This is ridiculous. Only a wimp would be hiding under a bed. And I can't be a wimp. I'm the man of the house." — Kevin
"Kevin, you are such a disease." — Jeff
"There are 15 people in this house and you're the only one who has to make trouble." — Kate
"Don't you know how to knock, phlegm-wad?" — Buzz
"Kevin?!" — Kate
"Buzz, I'm reading through all your private stuff, you better come out and pound me!" — Kevin
"Hey, I'm gonna give you to the count of 10, to get your ugly, yella, no-good keister off my property, before I pump your guts full of lead! One, two, 10!" — Gangster Johnny
"You can be too old for a lot of things, but you're never too old to be afraid." — Marley
"This is it. Don't get scared now." — Kevin
"Why the hell are you dressed like a chicken?" — Marv
"Merry Christmas, little fella. We know that you're in there and that you're all alone." — Harry
"You guys give up? Or are you thirsty for more?" — Kevin
"All the great ones leave their mark. We're the Wet Bandits!" — Marv
"I don't care if I have to get out on your runway and hitchhike! If it costs me everything I own, if I have to sell my soul to the devil himself, I am going to get home to my son." — Kate
"Will you please tell Santa that instead of presents this year, I just want my family back." — Kevin
Megan: "You're not at all worried that something might happen to Kevin?"
Buzz: "No, for three reasons: A, I'm not that lucky. Two, we use smoke detectors, and D, we live on the most boring street in the whole United States of America, where nothing even remotely dangerous will happen. Period."
"You can say hello when you see me. You don't have to be afraid." — Marley
"This is Christmas. The season of perpetual hope. I don't care that I have to get out on your runway and hitchhike, it costs me everything I own, I have to sell my soul to the devil himself. I am going to get home to my son." — Kate
"Why do I get treated like scum!" — Kevin
Home Alone 2 Quotes
"Don't you know a kid always wins against two idiots?" — Kevin
"You can mess with a lot of things. But you can't mess with kids on Christmas." — Kevin
"I'm 10 years old. TV is my life." — Kevin
"It's a nice night for a neck injury." — Kevin
"I'm traveling with my dad. He's at a meeting. I hate meetings. Plus, I'm not allowed to go in. I can only sit in the lobby. That's boring. So he dropped me off here. He gave me his credit card and told me to give this to whoever was welcoming people in so I won't get into mischief. And ma'am, sometimes I do get into mischief. We all do!" — Kevin
Kate: [at the 5-star Plaza Hotel] "What kind of hotel allows a child to check-in alone?"
Desk Clerk: "The boy had a very convincing story." Kate: "What kind of idiots do you have working here?" Desk Clerk: "The finest in New York."
Waiter: "Two scoops, sir?"
Kevin: "Two? Make it three. I'm not driving."
Cedric the Bellman: "You know, Herbert Hoover once stayed here on this floor."
Kevin: "The vacuum guy?" Cedric the Bellman: "No, the president."
Kevin: "I won't forget to remember you."
Bird Lady: "Don't make promises you can't keep."
Cop in Times Square: "Look, put yourself in your kid's shoes. Where would you go? What would you do?"
Kate: "I'd probably be lying dead in a gutter somewhere. But not Kevin. Kevin is so much stronger and braver than I am. But he's still a kid lost in a big city; he doesn't deserve that. He should be at home with his family around his Christmas tree. Oh my God! I know where he is — I need to get to Rockefeller Center immediately."
This article was originally published on