Can't Make It To The Spa For A Facial? We've Got You Covered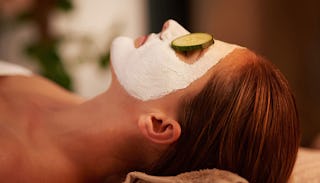 PeopleImages / iStock
Making time for self-care isn't always at the top of our priority list, but it feels damn good when we finally fit it in our schedules. An at-home facial in a fluffy robe with a nice candle burning may be just the thing you need to jumpstart a routine with a little more me time. Queue up a little Netflix with swears and gratuitous nudity to make it a truly child-free and mom-centered experience.
1. Remove your makeup and the day's dirt and oil with a gentle cleanser.
Instead of splashing water on your face to rinse everything off, wring out a warm washcloth and lay it over your face, then use it to gently wipe everything off. The warm cloth will open your pores and get them ready for all the good ish coming their way. Try the Face Shop Rice Water Bright Cleansing Foam.
2. Give your skin some gentle exfoliation.
You don't want to go too hardcore before using a mask, so avoid anything that feels like it's sandblasting your face. Rub your gentle exfoliant (St. Ives Even & Bright Face Scrub, Pink Lemon and Mandarin Orange) in small circles, then use a warm washcloth again to remove.
3. Now the fun part. Use a deep-cleaning mask to get all the junk out of your pores.
This clay mask is a favorite of mine and has a huge cult following. You can mix it with water, but I prefer apple cider vinegar to kick it up to 11. Mix 3 tablespoons of each and smooth the mixture over your face and neck, avoiding your eyes. You may feel anything from tingling to a slight burning like you would with an in-office peel. It will tighten and harden as it dries. Get out that warm washcloth again and lay it over your face to soften the mask for easier removal. You know how when you're pregnant everyone tells you you're glowing, but they're just trying to be nice about how sweaty you are? This mask leaves your skin actually glowing, clearing up your skin and smoothing its texture.
4. Follow up the first mask with a second.
I like to alternate between one that hydrates (VIA Sea Whip Cucumber Soothing & Hydrating Gel) and one that brightens (Andalou Naturals Glycolic Brightening Mask, Pumpkin Honey), so pick your poison or address any other issue your skin may be having. Apply the mask as directed, then sit back and relax. Think of drinking your coffee without reheating it in the microwave or the sound of everyone in your house napping. Remove with a warm cloth. (I'm really into warm washcloths, guys.)
5. After putting your skin through the ringer, you need to neutralize and calm it down.
Pour some toner into a small spray bottle and spritz over your face, giving it a minute to settle soak in.
6. Finish off your facial with a rich moisturizer.
Your skimpy daily isn't quite up to snuff for this step, so look for something thick and creamy, like Era Organics 10-in-1 Facial Moisturizer. Rub into your face and neck, stroking up instead of down to help retain elasticity.
Sit back with some tea and a book and relax for a little while. Or flop right to sleep because you're probably up past your bedtime to do all this, anyways. But wake up tomorrow with clean, smooth, hydrated skin, and a newfound love of warm towels. You know you loved them.
Editors may receive samples and/or a share from purchases made via links on this page.
This article was originally published on