340+ Horse Names That Are Sure To Develop A Colt Following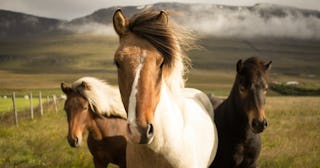 Fabian Burghardt/Unsplash
Whether you're a dog parent, a cat parent, or a pet chicken parent, it's no secret that pets, in general, are a huge commitment — but horses are a different story entirely. Unless you already have other horses, you're going to have to find a place for yours to live, not to mention a variety of other costs like food, vet bills, and equipment. But there are plenty of upsides to owning a horse, including if you have kids. Caring for a horse teaches a child responsibility and time management (they are time-consuming!), and also gets up them and moving, providing a source of outdoor exercise.
Determining whether to get a horse is certainly an important decision, but there's another one that will take some consideration: what you should name your new horse. Maybe you want a name based on the horse's breed, coat color, or type. Or perhaps the horse has such a strong personality that their name ends up being a pretty obvious choice. Whatever your situation, you're going to need some horse names. Fortunately for you, we've got 'em. Here are over 340 names to help you find the perfect moniker for your trusty steed.
Horse Names by Breed
One option is giving your horse a name that suits its breed. Here are a few to consider:
Quarter Horses
Ladybug
Cisco
Lacey
Sugar
Cash
Fancy
Blue
Buddy
Raven
Spirit
Friesians
Gypsy
Jack
Spirit
Lilly
Rebel
Black Jack
Jasper
Sadie
Toby
Harley
Arabians
Alexia
Prince
Annie
Levi
Trooper
Izzy
Diva
Lilly
Ransom
Treasure
Appaloosas
Alexia
Twister
Luna
Apple
Sheba
Blue
Cheyenne
Star
Apache
Gabby
Stormy
Paint Horses
Dakota
Bella
Lady
Tucker
Sierra
Scout
Lucky
Jewel
Snickers
Belle
Horse Names by Coat Color
Sometimes a horse's coat is so striking that it basically picks the name for you. Here are a few possibilities:
Black
Noir
Jaguar
Ebony
Onyx
Domino (for a black horse with white markings)
Black Annie
Black Beauty
Black Caviar
Black Diamond
Black Rose
BlackJack
Bucephalus
Coco
Colt
Dark Prince
Dark Star
Eclipse
Hershey
Knight rider
Lady hawk
Midnight
Morticia
Night
Nightmare
Raven
Shadow
Slayer
Thunder
Velvet
Zorro
Bay and Brown
Adobe
Bacon
Blob
Brandy
Caramel
Cinnamon
Cleveland
Cookie
Cow
Freckles
Hamster
Kit Kat
Latte
Milky
Snickers
Syrup
Tabby
Taffy
Chestnut
Autumn
Opie
Fiona
Pippi Longstocking
Peter Pan
Russel
Anne Shirley
Ginger
Palomino and Buckskin
Blondie
Rapunzel
Spirit
Trapper
D'Oro
Gray
Arctic Star
Asher
Ashy
Blizzard
Blue Steel
Breeze
Casper
Cloud
Cobweb
Crystal
Dream
Dusty
Grayson
Lacey
Luna
Napoleon
Olaf
Pepper
Silver dollar
Snowball
Steele
Traveler
Pinto
Scout
Little Joe
Jigsaw
Pirate
Rembrandt
White
Alpine
Angel
Arctic
Blizzard
Bone-chilling
Buttermilk
Casper
Champagne
Cirrus
Clara
Cloud
Coconut
Cream
Crystal
Daisy
Diamond
Faith
Fog
Frost
Frozen
Ghost
Glacier
Heaven
Iceberg
Icecap
Icy
Iris
Ivory
Jasmine
Kanthaka
Luna
Marengo
Marshmallow
Moon
Moonbeam
Moondance
Moonlight
Nimbus
Nova
Orchid
Pearl
Pegasus
Pegasus
Peony
Shadowfax
Slushy
Snow
Snowball
Snowdrop
Snowman
Snowy
Starlight
Storm
Sugar
Twister
White Flash
Wings
Horse Names Based on Personality
If you haven't spent a lot of time around horses, you may be surprised to find out exactly how much personality these animals have. (Spoiler: A lot.) If your horse has a particular personality trait that stands out, consider one of these horse names:
Bossy Horse
El Jefe
Queen
Boots
Major
Barkley
Michael Scott
Silly
Barnaby
Whiskers
Balki
Newton
Schmoopi
Tigger
Buster
Flopsy
Cultured Horses
Mozart
Jackson
Beethoven
Mona
Dickinson
Bard
Da Vinci
Sullivan
Chopin
Joyce
Well-Traveled Horses
Paris
Sicily
Beijing
Vancouver
Utah
Sydney
Berlin
Carolina
Passport
London
Virginia
Dakota
Arizona
Brooklyn
Brittany
Bruges
Limerick
Everest
Siberia
Tropical
Elegant Horses
Isabelle
Randolph
Debutante ("Deb" for short)
Marquis
Juliet
Henrietta
Vanderbilt
Versailles
David Rose
Horse Names by Type
Not only do horses come in different breeds, but there are also several different types, based on the horse's primary occupation. Take a look at these horse names and see if they inspire you:
Ponies
Buttons
Misty
Cloudy
Dolly
Cookie
Charlie Brown
Kokomo
Olaf
Tiny
Buzz
Peanut
Daisy
Blakey
Cinnamon
Palomo
Bella
Annie
Flash
Missy
Scooter
Draft Horses
Monte
Baymax
Goliath
Universe
Sadie
Bud
Bacardi
Ike
Yankee
Bella
Sapphire
Tara
Copper
Rocky
Sport Horses
Bolt
Challenger
Billie Jean
Fargo
Jet
Victory
Pharaoh
Western Horses
Trigger
Champ
Oakley
Bonney
Rio
Dale
Gene
Cash
Chisholm
Wayne
Names for Pairs of Horses
Some horses come as pairs, so it makes sense to give them names that reflect their partnership. A few include:
Anne and Diana
Lee and Grant
Fred and Barney
Winston and Churchill
Rhett and Scarlett
Dorothy and Sophia
Rose and Blanche
Laverne and Shirley
Garfield and Odie
Mary and Rhoda
Bonnie and Clyde
Sam and David
Frank and Jesse
Florence and Nightingale
Sonny and Cher
Famous Racehorse Names
Looking for a list of race-car-fast horses? Check out this list below if you want to give your horse a name inspired by speed and greatness.
A.P. Indy
Affirmed
Alydar
American Pharoah
Barbaro
Black Caviar
Bold Ruler
Citation
Count Fleet
Dr. Fager
Eclipse
Holy Bull
Justify
Kelso
Lost in the Fog
Man o' War
Native Dancer
Phar Lap
Red Rum
Ruffian
Seabiscuit
Seattle Slew
Secretariat
Smarty Jones
Spectacular Bid
Sunday Silence
War Admiral
Winx
Zenyatta
This article was originally published on