Your Rude Boss May Also Be Wrecking Your Parenting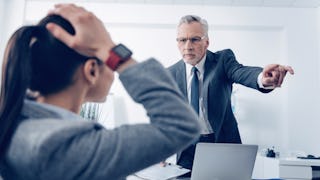 Image via Istock/Getty Images
A new study has found that your rude co-workers may be affecting how you parent, and it's not good
Yes, you already absolutely dislike your rude and disrespectful coworkers. But a new study has found that hostile work environments don't just generally suck, they could be making you a worse parent after you clock out for the day.
The parenting study, presented at the annual convention of the American Psychological Association, talked to 146 working mothers and their spouses about how they are treated at work as well as how they parent at home. The results were clear: mothers who had crappy coworkers were significantly more likely to engage in crappy parentings — specifically, overly strict and authoritative parenting that hurts kids in the long run.
The research, "Uncivil Workplace, Uncivil Home: Workplace Incivility and Harmful Parenting Behavior," reestablishes that hostile work environments are unhealthy for women and goes an extra step to prove that the negative effects of disrespectful jobs get taken home to kids.
"These findings reveal some previously undocumented ways that women, in particular, suffer as a result of workplace aggression," said researcher Angela Dionisi, PhD, of Carleton University. "In uncovering how this mistreatment in the workplace interferes with positive mother-child interactions, this research also speaks to a previously unacknowledged group of indirect incivility victims, namely children."
Science has long known that workplace incivility is not good. Studies before this one have established that bad work environments lead to poor performance on the job, high stress levels, problems with concentration, bad decision-making. But now we're beginning to understand that bad workplace culture is brought home at night and has far-reaching consequences.
The other new finding? Researchers were sure to point out that a "bad work environment" doesn't mean a totally out-of-control boss, it can just be negativity among colleagues.
"This is a form of mistreatment that many likely dismiss as non-effectual," said co-author Kathryne Dupre, PhD, of Carleton University. "It's unpleasant, it's frustrating, but it may boil down to one seeing a coworker behaving as a jerk. Our findings, however, suggest that this low-intensity behavior can actually erode one's sense of parental competence, and as a result, may also be harming one's children in a vicarious way."
The study also found that a poor work environment doesn't led to permissive parenting (which can also be bad), but rather an authoritarian style of parenting that can be damaging to kids. This type of parenting is associated with rules that must be followed unconditionally, lack of feedback, lack of nurturing, and harsh punishments.
"Research suggests that authoritarian parenting is more of a negative style of parenting as compared to other parenting styles," said Dupre. "This style of parenting has been associated with a variety of negative child outcomes, including associating obedience and success with love, exhibiting aggressive behavior outside the home, being fearful or overly shy around others, having difficulty in social situations due to a lack of social competence, suffering from depression and anxiety, and struggling with self-control."
While more work needs to be done about the correlation between work environment and parenting mode, these new findings can help moms right now — whether it's being more aware that your daily grind might be affecting how you interact with your kids, or this info being the final push to talk to your boss and colleagues about your unhealthy work environment.
This article was originally published on