20 Things Under $20 That Every Hot-Mess Mom Needs
by Team Scary Mommy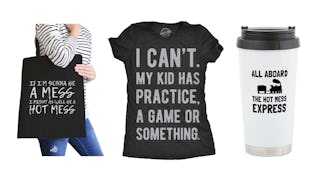 Image via Walmart
Whether you're a hot-mess mom or you know one, here are some things that will make life a little less messy.
Any mom who claims to have it all figured out is full of it. The truth is we all have a little hot-mess mom in us. Whether we're running late (AGAIN.) or maybe possibly forgot to pick a kid up from school (It was one of those random half-days, OK?), none of us make it through without some messy moments.
But some of us are more "hot mess" than others. We're typically juggling multiple kids while trying to remember where we put our phone that we're currently talking on. We never know where our keys are, and we have to ask our kids not to eat things that they find in the couch.
Here are some great finds for any hot-mess mom in your life, and they're all available for less than $20 right now:
This "We're All Hot Messes" Tee is perfect for reminding other moms not to judge, because we're all doing the best we can.
A "If Found in Microwave" Mug is great for hot-mess moms because 9 times out of 10, our coffee is being reheated.
This 2-pack Sunglasses Bundle is only $14 and includes square sunglasses and an aviator pair, both with cute rose-gold frames. And it's perfect for hot messes who have a tendency to lose and/or break sunglasses. Not that I would know.
This Soft Wool Hat comes in three cute colors and is a must-have for mornings where you're running late and your messy bun looks more like a bird's nest.
This Burt's Bees Moisturizing Lipstick is great to keep in your purse for when you only have time to do your makeup quickly while you're stopped at a red light.
An "I Can't" Tee should be a staple in any hot-mess mom's closet because we only very rarely know where we're supposed to be at any given time.
This "Hot Mess Express" Travel Mug is great because most of us messes drink our coffee on the go, if we're lucky enough to remember it at all. And it's on sale right now for $14.98 (originally $25.99.).
A Wireless Key Finder is something every hot-mess mom needs for getting out the door on time. And it's currently on sale for $16.98 (originally $29.99).
This "Hot Mess" Tote Bag says it all: If I'm gonna be a mess, I might as well be a hot mess. Go big or go home. Right, mamas?
Some Rosewater Facial Spray is a great investment for any moms who are always on the go and could use a quick spritz to feel rejuvenated.
Dry Shampoo is another must-have for busy moms. This fresh and floral scent from Dove is a soft, clean scent that isn't overpowering.
This "Yes, They Are All Mine" Tee is adorable, and perfect for moms with multiple kids to ward off nosy strangers.
A "I'm Not Like a Regular Mom" Tote is great for moms who flaunt their coolness, but in a funny way. And it's on sale right now for $18.99 (originally $26.99).
This Print Set includes two fun prints and is a great way to decorate your hot-mess home.
Being a hot-mess mom is stressful, but a Himalayan Pink Salt Lamp can add some relaxing energy to the home. And this one is on sale for $18.99 (originally $20.50).
This Cozy Blanket is great for wrapping yourself up at the end of a hot-mess day. And it's on sale for as low as $9.00 (originally $24.72).
A "Mama Needs A Nap" Tee is great for us hot messes who are running on four hours of sleep. We desperately want that nap.
We definitely recommend Swear Words Coloring Book for your sweary-mess friends to de-stress. And if they are hot messes who don't cuss? WTAF?
This "Bless This Mess" Poster makes a cute addition to any home. Especially, messy homes with small kids in them. Solidarity.
A "Survivalist" Tee sums up what it's like to be a hot-mess mom; we're just thankful to have survived another day.
No one ever said motherhood was glamorous, but no one ever warned us that we'd be running on no sleep and dry shampoo either. Here's to the moms who — hot mess or not — are out there slaying it every single day.
We are a participant in the Walmart.com Affiliate Program and may earn fees by linking to Walmart.com and affiliated sites.
This article was originally published on