Here's The First Trailer For 'Game Of Thrones' Spinoff 'House Of The Dragon'
by Valerie Williams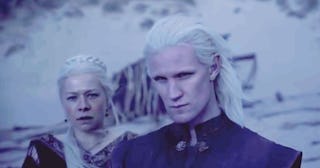 HBOMAX/Youtube
The first trailer for "House of the Dragon" has "Game of Thrones" fans extremely excited and hoping it's better than the original series finale
The widely panned and somewhat controversial (only because a lot of people thought it kinda sucked) Game of Thrones series finale aired over two years ago and ever since, fans have wanted more. Now, they're (kind of) getting it in the form of a GoT prequel called House of the Dragon. It doesn't include any of the characters fans of the original series are familiar with, but it's all from the books, so readers will have the upper hand in knowing what's up in the series' first trailer.
We've known about this prequel almost since the moment the original series ended, so it's a long time coming and judging by this brief but action-packed trailer, fans won't be disappointed. Buckle up for a preview of a bunch of super grim-looking House Targaryen intrigue.
The very dramatic trailer is voiced by The Crown's Matt Smith, who also stars in the series as Prince Daemon Targaryen. "Gods, kings, fire and blood. Dreams didn't make us kings — dragons did," Smith says in the clip. Gonna go out on a limb here and assume Daemon is going to be one of many vying to sit on the always-coveted iron throne.
The series is set 200 years before the events of the original show and focuses on the Targaryen civil war known as the "Dance of the Dragons." The series won't launch until 2022, but it will contain 10 episodes and after such a long wait for anything GoT, fans are mostly thrilled.
But of course some are already expressing hope that it will be better than the end of GoT.
https://twitter.com/jetpack/status/1445376833466388486https://twitter.com/jetpack/status/1445385942848712707https://twitter.com/jetpack/status/1445373602841382920
It looks super promising and I say that as a GoT fan. The shots in that preview look stunning. We get to see jousting and feasts and battles and brand-new Targaryens at each other's throats in pursuit of power over the Seven Kingdoms. What's not to like?
Aside from Smith, the cast is rounded out by Paddy Considine as King Viserys I Targaryen, Rhys Ifans as Otto Hightower, Olivia Cooke as his daughter, Alicent Hightower, Graham McTavish (Outlander!) as Ser Harrold Westerling, Emma D'Arcy as Princess Rhaenyra Targaryen, and Steve Toussaint as Corlys Velaryon.
Bring us back to Westeros. We are more than ready.