How Elvis Changed Our Marriage
by Lain Ehmann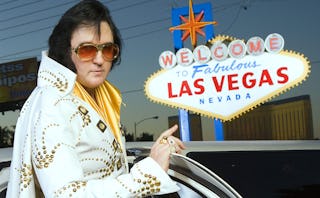 I'd planned for this day for months. Picked out the flowers, my dress, my attendants, the venue. Everything was going exactly as planned as we stood, hand in hand, staring into each other's eyes, getting ready to get married—by Elvis.
Well, technically REmarried. But it was the King himself, clad in a black polyester jumpsuit embellished with thousands of rhinestones and silver studs, unzipped to his midriff to show off his shaved chest and gold chains. He wore enviable mutton-chop sideburns and aviator shades, and he rocked. Literally. Crooning into the microphone, he serenaded us with "Can't Help Falling in Love." And I cried.
When it came time to celebrate our 20th anniversary, we figured there wasn't much better place to do it than in Vegas, in front of our three kids and various long-suffering family members. Okay, to be honest, my husband wasn't all that hip to the idea at first, but when I told him it was either Elvis or a large piece of anniversary jewelry, he agreed with my assessment and went along gamely. And it was awesome. There were laughs, tears, crooning and Hawaiian shirts. It's something my kids will remember forever.
As I was reflecting on the event, I realized that not only will this be a great entry in the book of family lore, it's also a great primer for marriage in general. And seeing as we've now been married for 20 (!) years, I am totally entitled to dish out advice on how to have a great relationship.
© Courtesy Lain Ehmann
1. Understand your roles. I'm not talking about "the little woman is barefoot and pregnant, the big man brings home the bacon." Unless that floats your boat, of course. What I am talking about is embracing your strengths.
For instance, in our marriage, I'm the ideas person. It's my "What if…" phrase that moved us cross-country to Scottsdale, Arizona, once we were sick of the New England winters, took us to Comic-Con, and, yes, brought us face-to-pelvis with Elvis. John knows that while my flights of fancy may seem quirky and flaky to him, they bring an excitement and energy to our family.
Meanwhile, he's good at the details that keep our family running. Instead of seeing his insistence on financial solvency as fussy, I appreciate his efforts to keep us in the black. Realizing that both of us have our own ways of taking care of "us" makes it easier to appreciate our differences. Although I'm still more fun.
2. Don't take yourself too seriously. Some moments in life demand to be taken with a scoop of gravity. Illnesses, career issues, kid challenges: These are the things that are difficult to take lightly. That's why, when you have a choice, I strongly suggest erring on the side of fun. Sure, getting married by Elvis in a seedy strip mall in Vegas might not be the most romantic thing ever, but it was a blast. Maybe the ambience would've been more impressive if we'd gone all-out at the Four Seasons, but who exactly are we trying to impress? We'll take entertaining over impressive any day.
3. Make him feel special. I'd love to say that we still look at each other with stars in our eyes—and maybe I would if I wasn't so busy looking around the house and cataloging all the needed home improvement projects. I doubt I'm that unusual. That's why I'm reminding you to take time to celebrate your relationship. Make that cheesy Valentine's Day card. Get him a "Grill Master" apron for Father's Day. Show your kids that you think he is worth celebrating.
4. Involve your kids. Experts (and watercolor quotes on Pinterest) will tell you that the best gift parents can give their children is a healthy relationship. When we started planning our 20th anniversary vacation, we barely even considered going without our kids. With our oldest entering his last year of high school in just a few weeks, time for family vacations is slipping away faster than Jude Law's hairline. Not only did we want to spend this time as a family, we were also banking that having our kids present at this public recognition of our continued commitment to each other would make them feel secure. And if it doesn't? Well, it'll just be one more thing to tell their therapists in a decade or two.
In sum, do what you can do, when you can, to bring your family together to celebrate. You don't have to travel to Vegas to do it, but once every 20 years or so, it might be just what the King ordered.
This article was originally published on