How to Make Simple DIY Disinfectant Wipes So You Can De-Germ Everything
by Sam Boone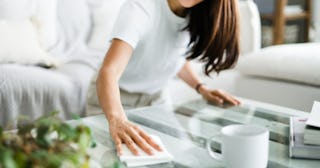 AsiaVision/Getty Images
Sometimes we want more than a tidy home. We want total protection from illness. Cleaning removes dirt and other substances off of a surface. Disinfecting, on the other hand, uses ingredients that kill germs and other microorganisms. Though Clorox wipes are popular for disinfecting, they can be expensive and difficult to find sometimes — especially during a pandemic, as we all now know. So, you may be wondering how to make disinfectant wipes at home. Good news! DIY disinfectant wipes are ridiculously easy to make and much easier on the budget than buying them at a store.
While there are a few recipes out there that use bleach or hydrogen peroxide, our favorite is this one that uses rubbing alcohol. Hydrogen peroxide can be a pain to store because of its light sensitivity, and bleach can discolor surfaces. Plus… the smell. Ugh. Still, you may be thinking that a bleach-free wipe can't possibly be as potent as the handy Clorox or Lysol wipes you're always tossing into your grocery cart. Well, here's a fun fact: Clorox and Lysol disinfectant wipes are both bleach-free.
Another benefit of DIY disinfectant wipes is knowing what's in 'em. And, of course, there's the fact that you can use them to disinfect door handles, light switches, computer keyboards, kitchen and bathroom surfaces, and more. Dawn cuts grease, and the rubbing alcohol disinfects. A perfect combination that even shines metal fixtures!
How to Make Disinfectant Wipes
Ingredients
One cup water
Half a cup rubbing alcohol (70 to 91 percent), AKA isopropyl alcohol
One teaspoon Dawn dish soap
One paper towel roll (the kind that comes in half sheets) or thin rags
Two to five drops tea tree oil (optional)
The choice is yours whether you use paper or cloth towels! You may need to increase or decrease the recipe depending on the absorbency of your towels.
Steps and Instructions
If using paper towels, use a serrated knife to cut a paper towel roll down the middle to make two smaller equal-sized paper towel rolls. You might need to add a little umph to complete the cut. For the sustainability warriors using rags, cut them into smaller squares to any size you like. Pro tip? Pinking shears help stop the fabric from rolling up or fraying.
Put the paper towel roll inside an empty baby wipes holder, Lysol/Clorox wipe box, or another plastic container. You can also store them in a jar, repurposed coffee canister, or zipper storage bag. What matters is that they are ready-to-go when you need them.
In a bowl or measuring cup, mix the water, rubbing alcohol, and dish soap together. Add the tea tree oil.
Pour the mixture around the edges of the paper towel roll and let them soak up the liquid. Saturate, but don't drown them.
Pull the cardboard paper towel roll out — or use paper towels with no cardboard roll in the middle — so you can pull wipes from the center.
Store in a closed container with a lid. If using rags, throw them in the washing machine after each use.
Tips
Pre-clean surfaces before using a disinfectant wipe. Once you've used the wipe on a surface, let air dry.
Use water at room temperature for dilution.
While 70 percent alcohol is the minimum, do not go up to 99 percent. You don't want the solution to evaporate too quickly. Otherwise, it will not disinfect.
If the wipes dry out over time, add some more rubbing alcohol as needed.
Change up the essential oils now and then. Citrus, eucalyptus, thyme, cinnamon, and lemongrass and have antimicrobial properties. To best imitate Clorox wipes, try lemon essential oil.
Cut the roll into thirds to make a travel size option and take your container on your next family road trip!
You might see disinfectant recipes that use vinegar. We highly recommend vinegar for cleaning. It can get rid of grime and wipe out certain germs. However, it's not nearly as effective at disinfecting as rubbing alcohol.
Never use these wipes with bleach.
Now that you've learned how to make disinfectant wipes, see how much further a dollar goes on cleaning supplies in your home.
What can I use instead of Clorox wipes?
Finding Clorox wipes can sometimes be a pain, especially during a pandemic. So, if you're looking for alternatives, here are a few options that work just as well.
Rubbing alcohol.
Disinfectants with an Environmental Protection Agency registration number. When it comes to cleaning agents, there's no need to be a label snob. A stamp of approval from the EPA means that it's effective and healthy for you and the environment.
Extremely diluted bleach solution.**
Air purifiers are more of a preventive tool than a cleaning agent. They catch harmful bacteria in the air before it sticks to your indoor surfaces. Some filters clean out up to 99.97 percent of particles in less than one micron of air.
**Be extremely careful when making your diluted bleach solution. Inhaling too much bleach can cause shortness of breath. Keep your windows open while using it.
How do you make vinegar cleaning wipes?
Vinegar is a household item you won't have trouble finding the materials to make. So, if you're looking for a disinfectant that is easy to create, this is perfect. You're going to need:
Two cups of warm water
A quarter of a cup of aloe vera gel
Two teaspoons of baby shampoo
One teaspoon of vinegar
Two to three drops of an essential oil
How do you make Dettol disinfectant wipes?
Dettol is an excellent product for cleaning bathroom surfaces. So you're looking to make your own wipes, you're going to need
Two and a half cups of water
Half a cup of Dettol
Mix these ingredients together and pour them over a stack of paper towels in a plastic bag. This helps keep the moisture in.
Can you add alcohol to baby wipes to make disinfectant wipes?
Baby wipes are super helpful when cleaning up your little one but did you know that half a bottle of rubbing alcohol can turn them into disinfectant wipes. So for a quick cleaning solution, pour about a cup of at least 70 percent isopropyl rubbing alcohol into the container. Close the lid and let it sit for a few hours before using. Make sure you label the rubbing alcohol disinfectant wipes from your regular baby wipes to avoid any hiccups. Or, after the baby wipes have absorbed the alcohol, transfer it into a zip lock back instead of leaving it in its original container.
This article was originally published on