Three Easy, Affordable Ways To Make Kinetic Sand And Moon Sand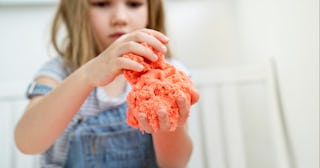 Andrey Sayfutdinov/Getty Images
What's not to love about kinetic sand? It's squishy and moldable! It's perfect for creating a "day at the beach" when you live nowhere near a beach. And it's a fantastic asset for children with sensory needs. Plus, we probably also don't have to spell out how awesome it is that you can make it at home at a budget-friendly fraction of the cost of what you pay in stores. If you're wondering how to make kinetic sand, there are a few different recipes out there. Below are two of our favorites.
Both of these recipes use Play Sand and ingredients you probably have at home. Don't worry — in case you're unfamiliar, Play Sand gets washed and screened (before it gets to you) to remove anything sharp or hazardous, dust, and other unwanted organic materials. Bonus: You can order easily order it online or pick it up at your local hardware store. Once you've got all of your ingredients lined up, it's time to whip up tons of fun.
How to Make Kinetic Sand
Corn Starch and Dish Soap Method
Not only does this recipe most resemble the kinetic sand you find in stores, we like that it dries out by the end of the day. Why? Well, it makes putting it away much simpler. When the kids are ready to play with it again, just add water. To make it more squishy, add more dish soap.
Ingredients:
Six cups of play sand
One and half cup of corn starch
Two teaspoons dish soap
Three-fourths of a cup of water (added more if needed)
How to Make:
Step 1: Combine the play sand and corn starch until mixed well.
Step 2: In a measuring cup or bowl, mix dish soap and water until well combined and the liquid bubbles a little.
Step 3: Add soapy water to the corn starch/sand mixture slowly until well combined. Vary the amount of water you use if you want the sand more coarse or fine.
Step 4: Add more water until the consistency is to your liking. Store in an airtight container to allow for multiple uses over time.
Sand, Flour, and Oil Method
Unlike the first method, this sand does not dry out, which has its own benefits. If you want kinetic sand that's ready to use at a moment's notice, this is the recipe for you. The texture is fantastic, and it won't stick to the kids' hands. It will last for months as long as you keep it covered when not in use. You won't have to worry about it losing its moisture or growing fuzz like playdough. When using this kinetic sand, make sure everyone's hands are dry. It'll reduce stickiness. However, if you ever find your homemade mixture feels a bit like beach sand, add a few drops of water to liven it up again.
Ingredients:
Five cups of play sand
Three cups of all-purpose flour*
One cup of vegetable oil**
*Feel free to substitute cornstarch for flour in this recipe too. Some people prefer its silky texture.
**If you don't have canola or vegetable oil, you can substitute it with olive, mineral, or baby oil.
How to Make:
Step 1: Combine all ingredients in a large container with a lid.
Step 2: Mix well to remove clumps.
Step 3: Add more oil if the sand doesn't feel moldable.
How to Make Moon Sand
Depending on who you ask, you may hear that kinetic sand and moon sand are the same. And, honestly, no one is going to challenge the assertion if you decide to call your DIY kinetic sand "moon sand." However, you should know that there is a separate recipe for moon sand — and it only requires two ingredients.
If you Google "how to make kinetic sand without sand," it's probably the recipe that will pop up. We sort of suspect that moon sand was the invention of a mama who didn't have play sand on hand and didn't want to run to the store. Thus, moon sand was born. One difference mamas seem to enjoy about this recipe is that it doesn't dry out due to the high oil content.
Ingredients:
Eight cups of flour
One cup of oil
How to Make:
Step 1: Combine all ingredients in a large container with a lid.
Step 2: Mix well until all of the oil is incorporated into the flour.
Step 3: Add more oil if the sand doesn't feel moldable.
Kinetic Sand Activities
Now that you know how to make kinetic sand, you can take the fun even further! We know your brain is probably already busy wondering how you're going to get all of this DIY kinetic sand out of your favorite rug. So, we came up with a few ideas for putting your kiddo's creation to good use.
Add buckets, shovels, cups, cars, and other toys to the sand bin.
Experiment with food coloring, powdered tempera paint, and ground sidewalk chalk.
Use cookie cutters to make shapes.
Toss in some glitter for extra sparkle.
There you have it, Mama! A fantastic at-home DIY activity that'll keep your kiddos entertained for hours (days, even). A word to the wise, though: Throw an old sheet or a tarp beneath your kids' play area before breaking out these moldable sands. They may be a blast, but clean-up can haunt your dreams if you don't put in a little prep work.
How to Store Kinetic Sand
One of the selling points of kinetic sand is that it doesn't dry out; however, it should be stored so kids can get the most out of it. Keep it in a resealable container that closes tightly. This will help keep it in one place and from spreading to beds or sticking to the bottom of shoes. Storing your kinetic sand protects it from dust and keeps mold from forming on it. The bacteria is called rhizopus stoloniferous, which is common in sandboxes.
Is kinetic sand toxic?
Kinetic sand is a child-safe toy filled with sensory exploration, and although it's safe to touch, it can be hazardous when swallowed. It's made of ultra-fine grain sand and dimethicone which is silicone used in diaper rash creams. So, before your child dives into the shores of kinetic sand, remind them never to ingest it. It can become a choking hazard or cause extreme constipation. When too much is eaten, it can even lead to gastrointestinal obstruction. If your child ever consumes this product, have them drink liquids, rinse their mouths out or call 911 right away!
How can kinetic sand reduce anxiety?
Playing with sand can be a comfort object and also help stimulate the creative parts of your brain. It can ease stress and even help with overthinking. Kinetic sand can improve your focus and how you manage your emotions by easing the mind. Think of it as a grainy stress ball that you don't have to journey to the beach to find
This article was originally published on