How To Make Your Own Kentucky Derby Hat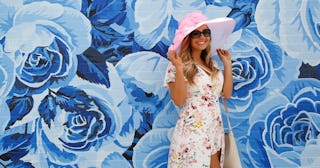 Jamie Squire/Getty
The Kentucky Derby may revolve around horses, but we all know there's another star of the show, too: Derby hats! Each year, visitors file into the famous Churchill Downs to see which prized equine will take home the trophy. In doing so, these Derby goers adhere to the time-honored tradition of wearing wildly over-the-top hats. And while many of us can't make it to the Downs, we can make our own Derby hats.
Interestingly, there's actually a lot more that goes into the showstopping head-toppers you see at the Derby than one might think. Milliner Christine A. Moore — whose styles have been worn by celebrities like Jennifer Lopez and Katy Perry — told Forbes in 2018 that her iconic hats can take anywhere from hours to weeks to craft.
For a DIY version, you're going to want to cut yourself a little slack. You are not a milliner to the stars. Neither are we. But anyone who is resourceful and adventurous can put together a hat that is perfectly acceptable for your average at-home Derby party. In fact, there's no shortage of video tutorials out there for crafting fanciful styles (we're even dropping a few below). You're also not alone in looking to make your own hats. According to the latest search volume available to us, tips on DIY Kentucky Derby hats have a search volume of nearly 1,000 a month. That's per month even though the Derby only takes place once a year!
So, grab yourself a mint julep and follow these steps. You'll be rocking a blue-ribbon Derby look in no time.
Track down a hat
This probably isn't a surprising first step, right? You can't have a Derby hat without the hat. For a classic Derby hat, you're going to want to find one with a large brim. The more brim, the more you can decorate it — and a Derby hat is nothing if not overdone. Alternately, you could opt for a fascinator, but that style is typically worn on Oaks Day, which is the day before Derby.
Either way, you have a few options for hat sourcing. You could always order a sunhat online through an e-retailer like Amazon. If you prefer to check it out in person first, you can hit up the gardening section of big box stores like Target and Wal-Mart. You can find hidden gems at discount retailers and department stores, too; think T.J. Maxx, Burlington Coat Factory, Kohl's, and J.C. Penney. Even craft stores like Michael's tend to stock hate bases leading up to Derby season.
Decide on a design
The sky is the limit when it comes to what your Derby hat will look like. If you're drawing a blank, turn to Pinterest and YouTube for inspiration. You'll find tutorials you can copy or, at the very least, something you see may spark your imagination. Based on what you decide, you can gather your supplies. Many styles require hot glue guns, which you'll need to have handy and heated when you're ready to start crafting. Keep the rest of your outfit in mind when choosing your design, as Derby style tends to be very coordinated (read: matchy-matchy).
Gather your accessorizing supplies
Here's where it gets really fun! There are three main categories of Derby hat decorations: flowers, feathers, and netting. You can choose one or incorporate all three. Often, Derby hats start with flowers in the middle and build outward from that focal point.
If you choose to add feathers, don't be afraid to manipulate them to suit your style. Pro tip? You can use your fingernail to break the feather's spine, which then allows you to curl them. A curling iron can even be used at that point. Feathers can get pricy quick, but there's no denying that they make a statement.
With netting, you'll often see two main types used in Derby hats: Russian netting, which is sort of loose and has varying widths of weave, or crinoline (also known as "crin"), a much stiffer fabric that requires a little extra finessing.
Of course, you can use just about anything you see fit to decorate your Derby hat. Drawn to sparkle? Bust out the sequins. Feeling artistic? Try a custom "mural." Want to stand out? Grab themed-figures and build a scene on your brim. Visit your local craft store to find supplies and get your creative juices flowing. Once you know exactly what you want to use, you can fill in any gaps with online ordering.
Bedazzle away
A solid strategy for putting together your hat is to start at the focal point and go outward. Try to aim for an offset angle so that all of your decorations don't end up directly in the front. If you aren't crazy about where you've placed something with hot glue, break out your blow dryer and gently blast the spot for a few seconds. The glue should soften enough for you to pop the decor off and replace it wherever you want.
Other than that, just have fun with it! This is definitely an activity that should be enjoyed. Preferably in the company of friends and a pitcher of mint juleps.
How to make fascinator for the Kentucky Derby?
Luckily, even if you decide to go the fascinator route for your Kentucky Derby watch party you can still make a statement from your DIY project. The below video may be old but it has half a million views on YouTube for a reason — the subject makes a fascinator in minutes using a plastic lid from a tub of butter, some fabric, mesh, and a glue gun.
DIY Kentucky Derby hats for kids
Kids love them some arts and crafts and what's more arts and crafts than Kentucky Derby hat decor. Keep the hot glue gun away from them or help along when it comes to that part. Otherwise, let them have as much fun as they want. Since kids will be kids, you can throw in some fun googly eye decorations and pipe cleaners you can pick up at any Michael's or arts store. Feathers and mini princess tiaras are also a welcome decor piece.
This article was originally published on