Perfect Side-Gigs For Moms Lookin' To Make A Buck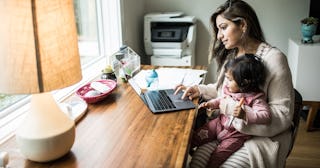 MoMo Productions/ Getty
Being a stay-at-home mom is, without a doubt, a full-time job. While it might save money on childcare, though, it doesn't help pay the bills. Now more than ever, moms who typically fill their days with tea parties, laundry, and everything in between are finding a need to branch out and help put money in the bank account. Maybe you're a single-mom just hoping to stay at home while paying the bills. Or, perhaps, you know that your partner can't pay for that dream house on their own. Whatever the reason you're looking to make a quick buck, there's actually a decent amount of jobs, hustles, and side-gigs that can help you make the money you need. You just have to know where to look. (Like, here!)
Sell Yourself — Dependent on market and how many clients you accept
What are you great at? Do you have a linen closet that would make Martha Stewart proud or a pantry that puts Chrissy Teigen's to shame? Perhaps your Christmas decorations get tons of compliments every year. With a bit of start-up work, apps like Thumbtack can be a great way for you to sell your services in the way of decorating help or home organization.
Make The Most Of Your Crafts — Dependent on Skill/Need
Etsy and Shopify are both still booming with business. Are you a wiz at whipping up Barbie clothes? Did you turn your wedding dress into a christening gown? Offering sewing services are a great way to make some extra cash. There are even people who specialize in creating convertible bridesmaids dresses. Maybe you're less crafty and more artsy. Do you make adorable doodles you could personalize and print onto tees or mugs? Perhaps you could create your own printables and sell the file for people to print themselves — that even saves you the hassle of going to the post office.
WFH Phone Jobs — $25k-$35k yearly
If you've seen Workaholics, you know that working in a call center-type situation sucks. That job becomes a lot easier when you can do it with your phone and laptop from the comfort of your home. The low-end of the money well lies in telemarketing. But, you can also look for jobs as telephone survey conductors or customer service or call center reps. A bit of sales experience might come in handy in some instance, but not always.
Typing Jobs — $28k yearly
When you're working through nap times or after bedtime, you need something more quiet to do. There are actually still plenty of options out there. If you know or are willing to learn legal terms, medical terms, or police codes, you could make decent money transcribing for medical, law enforcement, or legal agencies. This could look as simple as transcribing a hearing in court or imputing medical billings.
Tutoring — Up to $25 hourly
If you belong to a moms' group on Facebook, you've probably already heard about VIPkids. Any time a mom mentions going back to work, another mom immediately chimes in with a recommendation to check out VIPKids. As long as you're comfortable being in front of the camera and can find a couple quiet hours each week or record (nothing super high quality), you can get partnered with kids who are learning English and need some help. It's not only a great way to make money from home, but also to feel like you're doing something valuable and lasting.
Help With Homeschooling and Remote Learning
This tip wouldn't have made the list before COVID-19 turned parents into full time teachers for their children, navigating remote learning and work full time. Many parents are not seeking extra help from other moms to help their children with remote learning. If you have previous early education or teaching experience, this is a plus. Reach out to your local mom group and offer your services, you would be surprised to know how many would jump at the chance to pay for extra help.
Blog — Dependent On Skill/Need
Take note: You need to have a gift for writing and it's best if you can offer a unique perspective. There are a ton of homeschooling blogger mamas out there, but what sets you apart? Maybe it's that you live in a big city, where it's a lot less commonplace. Or maybe you're an expat who uses your new home to teach in exciting new ways. Are you stumbling through the IEP process and constantly learning new things you wish someone had told you about two years or even just two weeks ago? Find a way to be useful and stand out in your crowd and you could make decent money with ads, product reviews and even sellables.
Bookkeeping — $25k-$60k yearly
If you've ever known someone who owned their own business, you're probably familiar with the term "bookkeeper." Bookkeepers, in essence, keep track of a business' money — the input and the output. While you might occasionally be asked to weigh in on financial decisions ("Can we afford to do this?" or "Was that project profitable?"), your objective could be as simple as doing the math. If you know the right people and have enough faith in yourself, you could probably start today. However, there are plenty of classes available to help you start off on better footing.
Proofread — $15-$30 hourly
If you have an English or journalism degree, you could probably start proofreading immediately using one of the gig work apps, like Fiverr. However, if you're a little nervous and want to have some back-up when branching out, there are plenty of services out there that train you and then walk you through the job-finding process.
Manage Facebook Ads — $1k monthly, per client
You know those ads you see between friends' posts on Facebook? Someone has to create those, purchase them and place them. That person makes pretty decent money, if they know what they're doing. It could be a really easy, quick way to make a little bit of extra money each month.
Virtual Assistant — Starting at $16 hourly
Sometimes hardworking people need assistance but don't always have the office-space to house said assistant. With so much calendar planning, communication, and project management happening online these days, it's now easier than ever to assist businesses and entrepreneurs without ever leaving your home. The new term: Virtual Assistant. If you're a highly organized person with great communication skills and a desperate need for follow-through, you might love being a VA. Like so many other online-based jobs, there are a ton of resources to help you get started.
Rent Out Your Baby Gear
That's right, if your kid is a preschooler you may find you have a ton of baby and newborn gear collecting dust somewhere in your basement. Why not have all those things make you money by renting them out to families traveling in your area.
Companies like BabyQuip need local mama providers for their own business model, and that's where you come in. According to them, "BabyQuip, aims to take the hassle out of traveling with young children by renting out baby gear – strollers, pack 'n plays, cribs, car seats, high chairs, toys and much more – at hundreds of vacation destinations throughout the U.S. and Canada. Once parents visit BabyQuip and type in their destination and travel dates, they'll see BabyQuip Quality Providers (QPs) who deliver to that area. Parents choose the equipment they want and provide delivery specifics. Once they place the order they receive an email confirmation, then the BabyQuip QP checks back with them a day or so before their travel date. The BabyQuip QP also receives an email with the order confirmation details and the order is uploaded right to her phone's calendar. On delivery day she loads up her car and heads to the family's hotel, vacation rental or the private home where they will be staying."
Rent Out Your Car
What does your ride situation look like? Many car owners are turning to Lyft or Uber to put their cars to good use and make money. That defeats the "make money from home" concept, though. As does using your car for food delivery. There is a better way, Mama.
Are your kids in need of regular chauffeuring to school or sports yet? Do you find your car sits idle in the driveway or garage for most of your week? If so, you might consider using a service like GetAround to rent out your car to visitors in need. The agreement comes with a million-dollar insurance policy backed by GetAround, so you're safe on that front. As a bonus, renters are expecting to rent and return a car in clean condition. That might just help hold you accountable for that mountain of Starbucks cups on the floor on the back seat. (What? Just us?)
Baking or Cooking Orders
For those among us who are natural bakers and cooks, it might just be the perfect outlet to start a side hustle where you make money for what you already love doing. If you regularly whip up batches of scrumptious muffins, cakes, and artisanal breads, why not advertise with your local mom group and get some orders. Everyone loves home made over store bought and you might be surprised how many moms and dads would love to order from a local mama.
Same goes for weekly meals. If you're already whipping up a weekly lasagna for the kids, we bet there are other parents right in your area who would love to pay for an order to go. Word of mouth is huge if you go this route and you might be surprised how many orders you get. What you charge is up to you, however.
This article was originally published on