How To Make Money In College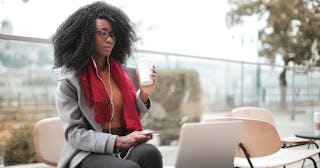 Andrea Piacquadio/ Pexels
Everyone's familiar with the broke college student stereotype, but let's be real — nobody really wants to be the freshman surviving off of Ramen alone (says the girl who ate so much Cup Noodles in college she feared she would get scurvy). However, college money doesn't exactly grow on trees. Even if your education is partially paid for through scholarships and/or loans, you're likely still going to need some extra dinero. And here's the great thing: You don't have to be a broke college student.
Today, there are tons of extra ways to earn money while in college full-time. Some don't even require you to leave the confines of your dorm. So, when you're ready to most past that ol' instant-noodle-student-cliche, you've got plenty of options. Since you've got a lot on your proverbial plate other than Ramen right now, we've pulled together a list of ideas to get you started.
On-Campus Jobs
RA or campus tour guide
If you love the college experience (or suspect you will), why not help other students live their best college life, too? As an RA, you'll provide emotional support to peers in your dorm — but, like, also a bunch of other less fun stuff like keeping people in line when they're having an all-night study sesh, or dealing with more emotionally taxing issues. You will, at some point, have to be the bad guy. On the plus side, you'll gain invaluable leadership skills (not to mention a resume boost). In most cases, your room and board will be covered, and your university may also offer a cash stipend.
But maybe you'd prefer not to spend most of your spare time in the dorm. If you're a social butterfly, campus tour guide could be right up your alley. It's pretty much exactly like it sounds, which is a pretty laid-back gig. You'll have to inquire with your prospective university about the potential pay for this gig.
Teaching or research assistant
Even if you've yet to take a single college class, you're probably familiar with teaching assistants, or TAs, thanks to TV and movies. Basically, a TA's job can include anything from helping a professor during class to keeping after-class hours and teaching the class in the professor's absence. Per PayScale.com, the average hourly pay rate for a TA is $12.60. However, some colleges and universities offer substantially more, along with tuition cuts.
Research assistants, or RAs, similarly facilitate professors. However, they're more behind the scenes doing, as you might have guessed, various research-related tasks.
Work-study
Did you fill out a FAFSA form for federal student aid? If so, you may find out that you qualify for a work-study position. Funded through the government, work-study gigs are part-time jobs designed to easily fit within your school schedule. This might include working in the university mail room or being a member of the university yearbook (*raises hand*). You'll be paid at least the current federal minimum wage for work-study, but typically more depending on the type and scope of the job.
Tutor
Let's say you're a pretty solid student. Maybe you're particularly passionate about a subject. Well, you can funnel that into a successful side hustle by spending a few hours per week tutoring other students. Your school's employment office will be able to tell you what tutoring opportunities are available. Or, if you're feeling entrepreneurial, you can get certified and start your own tutoring business.
Don't think this means just tutoring other college students, broaden your horizons and consider tutoring high school students local to your college town. If you were always good in biology and chemistry and there's a parent looking for some extra hours of study for their teen, you might just be the perfect fit.
Off-Campus Jobs
Driver
You know the drill, right? You can take in a tidy haul of cash via driving jobs for ride-sharing companies like Uber or Lyft. But it goes without saying there are certain safety considerations you'll need to think about before going this route.
Errand-runner
Ah, praise be the era of instant gratification! We can pay for people to do pretty much any menial task we desire these days: delivering our take-out (Uber Eats, DoorDash, Postmates), bringing us our groceries (Amazon, Instacart), and generally helping people tackle their to-do lists (TaskRabbit). Sign up, become an everyday hero, and get paid for it. Full disclosure: You'll still have to mull over some safety concerns.
Sitter
Kids, pets, houses… you can earn money "sitting" in many different capacities. We've even heard of people paying to have someone sit with their houseplants. You can score these gigs through word-of-mouth, or you can sign up for sites like Care.com and Rover that connect potential sitters to home/pet-owners.
Proofreader
Calling all grammar freaks; this is your time to shine! Do not, and we repeat, do not offer to write and/or rewrite other students' papers. But if grammar is your jam, you can make decent money acting as a proofreader or editor for other students.
Notary Signing Agent
Did you know that loan signing agents can make a whopping $75 to $200 per hour? How come no one ever told us about this during our undergrad days? Here's how it works. A Notary Signing Agent, or NSA, facilitates loan closings for the mortgage finance industry. In order to become one, you must first be a Notary Public.
Fortunately, that process isn't typically terribly involved or expensive. You'll then need to take part in an NSA certification program. Once completed, you can either seek out your own industry connections for signing opportunities or add your name to a local database to receive calls for nearby opportunities.
Entrepreneur
You don't have to wait until after college to dive into the business world. Kick your career off while you're still in school by starting your own part-time business. One brilliant idea? A laundry service! Offer to wash and fold clothes for students so they don't have to wait a month until their next trip home, and you could be rolling in the dough before you know it.
Online Jobs
Be honest: Did the Google search that led you here say something along the lines of "how can I make money in college online"? You're definitely not alone in seeking out an easy virtual avenue for bringing in college cash. Luckily, there are many (many, many). Below, we've listed a few legitimate online jobs that could bring in money while you go to school. Be forewarned, though — many of these jobs aren't so much of an income stream as they are an income trickle.
Brand ambassador
Virtual assistant
Micro-gigging on Amazon Mechanical Turk
Online surveys
Online testing
Transcriptionist
Blogger
Bookkeeper
Social media marketer
Data entry
Virtual "call" center rep
Online teacher to ESLA students
Website or search engine evaluator
The above options might be more relevant than ever as a global pandemic has hampered many in-person tutoring, off campus, and even on campus jobs. As colleges opened for in-person learning for the fall 2020 semester, many were forced to immediately cross over to full-time remote as COVID-19 outbreaks ravaged campuses. While health and safety is of utmost importance, many young students are left wondering how they could make extra money now that so many college jobs are no longer an option.
More online jobs college students can consider
If you basically have a doctorate in Googling and are also a whiz/very comfortable using Excel or Google Sheets you can consider data entry positions through short-term gig websites like Upwork. Companies are regularly looking for extra help organizing large documents or data mining using public information. If you have time in the evenings and are looking for extra income, this might be an option you can look into. Be warned, though, these are often incredibly tedious projects with thousands of lines of data to pour over and might not be a good option for everyone.
This article was originally published on