The Painless Way To Organize Your Closet And Regain Control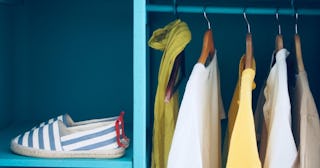 jordi pujadas/Unsplash
Check out more from our organization package and find out how to declutter your home, make a moving checklist, how to properly organize your freezer, as well as small laundry room ideas, and DIY closet organization.
Closets are both a blessing and a curse. A home — especially an older house or apartment — with decent closet space is a real estate unicorn, but more closets can sometimes mean more clutter problems. You see, the more closet space you have, the more likely you'll be to fill it up.
Having a small part of your home where you can just stash stuff and then close a door to make it all magically disappear is amazing — until it comes time to clean that closet out. That problem is a thousand times worse in kid's closets or, shudder, a teen's. If you need some help in this area, we're here for you. Here's how to organize all the closets in your house without losing your mind.
Assemble Your Supplies
Before you actually get into the closet, create a little organizing kit with stuff you already have around the house. Grab some trash bags (to help you sort out what can be donated or given away), cleaning supplies (to spruce the closet up a bit once you've gotten in), and another bin where you can (temporarily) throw anything you're not entirely sure what to do with as you're clearing stuff out. But, as tempting as it may be to hit up The Container Store, don't do it. The idea here is to get rid of stuff so it's more organized, not bring more items into the mix. Once you know how you want to organize your closet, sure, you may need additional supplies. But don't put the shopping cart full of plastic bins before the horse.
Take Everything Out of the Closet
As you're emptying out the contents of your closet, if there's something you grab and you know right away that you want to get rid of, place it in the appropriate container. Otherwise, just plop everything in the closet out on your bed or in a (somewhat) near pile on the floor or other furniture. Get everything out, and then use your cleaning supplies to give everything a good wipe-down. You might as well take this time to make sure that the inside of your closet is as clean as possible.
https://www.instagram.com/p/B2Wk8xMHLhV/?utm_source=ig_web_copy_link
If you're not a "take everything out of your closet" kind of mama, you can tackle each closet by category. For example, organize all the coats and outerwear first, then tackle all the sweaters, then long sleeve shirts, short sleeves, dresses, etc. You can do this with your own clothing and move on to your kid's closets as well. Better yet, include your children in the process so they get the organization bug early. Well, that and also they'll be less likely to mess up their closet if they were the ones who spent hours organizing it.
Survey Your Space
Instead of just putting everything right back in the way it was originally, why not take a look at your closet and see if you can maximize your space. Now's the time to take measurements of any built-ins or other storage spaces, and if you decide that buying new containers could help, you'll be able to come up with a plan and know what to buy, instead of just roaming the aisles at Target and picking out what you think you might need. Don't be afraid to switch things up and get creative. Don't forget to utilize the door and the high parts of your closet closest to the ceiling.
If your shelves are not broken up into smaller compartments, invest in some super-affordable metal dividers that will save the day and come in clutch when you want to break up one large upper shelf into four or five different sections. Use one to organize your bags, others to stack your shoe boxes, and others for your sweaters.
Go Through Your Stuff
Now, turn to that massive pile on your bed, floor or other furniture, and start going through everythingg. Figure out what you want to keep, throw out, donate or give away. If you haven't worn an item of clothing in a year, there's a good chance you can probably get rid of it. And don't forget about shoes, bags and accessories — you need to go through those, too.
Put Stuff Back In
Now that you know what you're keeping and parting ways with, you'll have a better idea of how much you need to put back into your closet. If you decided that you really need some new stuff to get your closet in order, get that now. Otherwise, start thoughtfully putting your belongings back in the closet. But don't just throw everything in willy nilly: take this opportunity to actually organize the contents. There are some cheap hacks you can buy to organize your closet and clothes for next to nothing. For example, hanging labels between clothes can help you separate T-shirts from the dresses, heavy sweaters from the spring sweaters, and so on. If you've always wanted one of those Instagram-inspired closets where everything is stored in rainbow order, go for it. If you want to separate your work clothes from leisurewear, have at it. The closet is your oyster.
Get Rid of the Stuff You Don't Need
Finally, take the items you've discarded and either throw them out, sell them, give them away, or donate them. Try Facebook Marketplace to get rid of baby clothes or old maternity clothes, reach out to your local house of worship to inquire about donations, or give away to friends and family who would love that gently worn pair of boots. The point is, you're getting them out of your closet and out of your house. Welcome to a decluttered and organized closet.
This article was originally published on