How To Use Lube Like A Sex Goddess And Maximize That Big O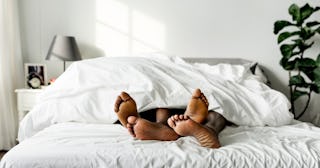 Rawpixel/ Getty
If you haven't used lube before in sex, then we've got to ask you á la Gwen Stefani: what are you waiting for? If you don't already know it, wetter is better when it comes to knocking boots. Unfortunately, lube gets a bad rep. A lot of people think it's for older people, or guys seem to think it's a point of shame, and lack of their virility, if they need to use lube. This is both incorrect information. Why? Because almost every sex position, whether it's vaginal or anal, can be improved with lube. This is correct information.Lube helps, uh, things get smoother and comfortable, and therefore more pleasurable, when it comes to sex. In fact, we're pretty sure that once you use lube for the first time, you'll never go back. Intrigued to learn more about lube? Here's everything you need to know about how to use lube like a true sex goddess.
What is lube?
First up, it's important to know there's nothing wrong with you or your vagina or any other part of your body to which you would like to apply lube. With all the friction that sex involves, intercourse without lubricant can be painful. Enter: lube (no pun intended). Lube reduces friction and enhances arousal, and makes for one fun, slippery ride.Lube comes (no pun intended again) in four types: water, oil, petroleum, or silicone. Choosing the right lube for you is essential for its enjoyment. For example, if you're prone to yeast infections, then you'll want to avoid silicone lubricants, and lubricants with glycerin. Have sensitive skin or allergies? Then it's best to stick with water. Water-based lubes tend to be cost-effective and work best with condoms. Looking for a lube that tastes good? Opt for natural-based oil lubricants — like avocado, coconut, vegetable, and olive oils — that will taste yummy and way less fake than the rest.
How do I choose which lube to use?
Lube is excellent to use as part of foreplay to boost arousal but can also be used for a slew of sexual fun. Which is why it's best to know which type of lubricant works with what type of sex activity. For example, silicone lubes will eventually break down silicone sex toys. Also, silicone lubes do the same with condoms, so you might want to opt for a different type of lubricant or have a backup birth control and other means to prevent STIs. However, silicone is great for water sex activities, like showering together and hooking up in the pool. If you're not sure what lube to use and when, visit your local sex store and speak to a consultant who will be happy to answer your questions.
How do I use lube?
A little goes a long way with lube. You want to start off with a dime sized amount on your fingers and warm it up between your hands before applying. If you need more, add more. Another tip (haha no pun intended!): You might want to use a towel in case of any spillage that could cause stains, especially if it's oil-based.
How to use lube for vaginal sex
You can apply lubricant directly on the vagina or vulva and/or the penis before penetration if you're having sex with a partner or if you're playing solo. You can make it even more pleasurable by rubbing your palms and fingers either on your labia or the penis for an added hand job.
How to use lube for anal sex
Lube is pretty much a must for anal sex. Be as generous as possible with lube with anal sex since the rectum, unlike the vagina, doesn't produce its own lubricant. For anal sex, consider applying a thicker lube for even more comfort. You can apply lube to both the rectum and/or the penis for penetration. Remember: when it comes to anal penetration, comfort and caution is key. Don't be afraid to take it slow and use as much lube as necessary.
Can you use lube with condoms?
Absolutely. If you use male condoms, you can put a drop or two of lube in the tip of the condom before rolling it on the penis. Be careful because it might get too slippery and could fall off. Another option is applying the lube on the outside of the condom before penetration.Related: Top Lady-Approved Lubes So Your Wet Dreams Can Be A Reality
This article was originally published on