'Hubie Halloween' Is The Fun Family Content You Need RN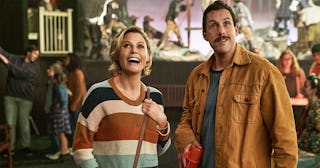 Scott Yamano/NETFLIX
Adam Sandler's Hubie Halloween is now on Netflix
With the CDC calling for Americans to stay home on Halloween this year, anything that will keep your family entertained this spooky season is welcome. If you're looking to start the Halloween-movie marathon early, may I suggest Hubie Halloween on Netflix. Hubie Halloween is a PG-13 Adam Sandler movie and it has everything. This movie has Adam Sandler doing a Billy Madison voice, lots of Halloween costumes, a Salem, Massachusetts setting, Maya Rudolph, and the kid from Stranger Things. Sign. Us. Up.
According to Netflix, Hubie Halloween stars Adam Sander as Hubie Dubois, who "spends every Halloween making sure the residents of his hometown, Salem, celebrate safely and play by the rules. But this year, an escaped criminal and a mysterious new neighbor have Hubie on high alert. When people start disappearing, it's up to Hubie to convince the police (Kevin James, Kenan Thompson) and townsfolk that the monsters are real, and only he can stop them."
The movie looks delightfully deranged and has an all-star cast lineup that includes Julie Bowen, Ray Liotta, Noah Schnapp, Steve Buscemi, Maya Rudolph, Kevin James, June Squibb, and Kenan Thompson. In a pre-COVID world, you might go see this movie in theaters, but now you don't have to — because you can't — so Netflix it is!
The film may not be a Halloween masterpiece, but it's the perfect thing to tide us over in this pre-election, mid-pandemic hellscape. According to Variety, the movie is "cheerfully, indifferently silly" and compared it to the cinematic version of "candy corn." Indiewire said it was the "first time in a long time that it feels nice to watch the Sandman goof off with his friends for 90 minutes."
Also, on a more sentimental note, the young actor Cameron Boyce was cast in the film and tragically died shortly after production began, so at the end of the film, there's a tribute and a dedication to the late actor that reads: "In loving memory of Cameron Boyce. Gone way too soon and one of the kindest, coolest, funniest, most talented kids we knew. You live on forever in our hearts and are truly missed every day."
Hubie Halloween landed on Netflix on October 7, 2020 — meaning you don't have to wait 'till Halloween to get your spooky fix. I think the consensus here is that if you've seen Hocus Pocus and The Nightmare Before Christmas one too many times, pour yourself a pumpkin cider beer and plop the entire family in front of the TV for a little Adam Sandler Halloween magic.